For many people, the first aquarium is special. It does not matter if it is expensive, large, or small, it represents the beginning of your journey as an aquarist.
Even though there are many options of tanks on the market, it may not be easy to choose the best tank for your wants and needs.
Table Of Comparison
| | | | |
| --- | --- | --- | --- |
| 29-Gallon Fish Aquarium | Dimensions | Lighting | Heater |
| Marineland BioWheel 20 Gallon Aquarium | 30×12×18 inches  | LED | Yes |
| Oceanic BioCube 29 Gallon Aquarium | 22.4 x 20.8 x 24.2 inches | Blue Moonglow LED | No |
| Aqueon Deluxe Kit 20 Gallon Aquarium | 30.25×12.5×21.5 inches | White LED | Yes |
| Coralife BioCube 29 Gallon Aquarium | 21×20×21 inches  | Vibrant Aquarium LED | No |
| Aqua Culture Starter Kit 29 Gallon Aquarium | 30×12×18 inches | LED | Yes |
| JBJ 28 Gallon Nano Cube Aquarium | 26×22.5×25.5 inches  | Multifunction LEDs | No |
Factors to consider
When searching for a tank, some factors must be taken into consideration. You have to have the right location for the tank and thus the size must be appropriate to the placement.
There are choices such as a complete aquarium kit that will offer you all the necessary equipment or the option to buy the tank and accessories separately.
Either way, take your time to research the benefits and disadvantages of every tank before making a decision.
For beginners…
If you are a beginner, my suggestion would be to go for the best 29-gallon aquarium that you can find.
It is a common practice among beginners to start small and upgrade to a bigger tank once you get the hang of things.
Here are some of their reasons for not going with a 29-gallon aquarium:
It is too expensive
A larger aquarium is too noisy
A large fish tank requires more work
If there's leakage, my room will be a mess
And here's my response to them:
Yes, it is relatively more expensive at the beginning BUT the cost of maintaining it is lesser compared to a smaller tank so, in the long run, you are spending less.
The noise depends on the filter that you use. Invest in a good quality filter (Eheim Classic 2213) and you can sleep soundly without any noise coming from your tank.
The truth is maintaining a small tank is harder as compared to a bigger one. It is hard to achieve the perfect water readings with a small tank plus you will have a hard time scaping your tank.
There's bound to be a mess when there's leakage no matter the size of your tank so invest in a quality tank to reduce the possibility of leakage.
If you are still not convinced, check out the video below to better understand why 29-gallon aquariums are the best option for beginners:
Hopefully, you are now convinced that getting a bigger aquarium (at least a 29-gallon aquarium) from the start is the best decision you could make for your new hobby.
My 29 Gallon Aquarium Suggestions
The following are 6 of the best 20+ aquarium tank options that are available in the market:
Marineland BioWheel 20 Gallon Aquarium
This is the kind of tank that is perfect for use in an office or home as it is easy to setup (Check out my aquarium setup post!).
It has an elegant aspect and the hood is suitable for any decor. A significant advantage of this tank is the LED light that offers natural light for the fish.
Also, the lights can be kept on even at night allowing you to admire your tank in the dark without disturbing the fish with normal light.
In addition, you do not have to worry about where you will place the filter and heater because the hood already has special places for them.
Overall, it is one of the best choices that you can make in aquariums.
Oceanic BioCube 29 Gallon Aquarium
The Oceanic BioCube tank is a luxurious piece that will attract much attention.
The corners of the tank are curved and stylish, offering a very interesting perspective.
Also, the special Lunar LEDs will make any decor look extraordinary and it is one of the best aquarium lighting for beginners.
The maintenance is made easy by the integrated filter so you do not have to occupy more space with the external filter.
If you plan to keep fish that need low temperatures, the two cooling fans integrated within the hood will come in handy.
You can also set the timer for the light, to give your fish time to rest.
This tank is appropriate for any freshwater or saltwater fish. This tank is a great investment!
Aqueon Deluxe Kit 20 Gallon Aquarium
The Aqueon deluxe kit is perfect if you want to set up your tank as soon as possible without struggling to find the right equipment.
It comes with everything you need for your new project without having to pay a fortune!
The design is simple and can be placed in any room.
The integrated timer makes it easy for you to provide the plants with the exact amount of light they need and the filters will make the cleaning process easier than ever.
Also included are accessories like a thermometer, fishnet, and fish food.
This tank is a great deal that saves you a lot of time and effort.
Coralife BioCube 29 Gallon Aquarium
The Biocube is one of the best tanks on the market.
It not only has an elegant design but also excellent equipment.
Each fluorescent tube has its power cord for easy adjustment of the light in the day or night.
If you want to place the aquarium in your bedroom, this is the right choice; the cooling fans and the filter make almost no noise.
The design is simple but attractive and the entire piece is one of the most convenient quality aquariums on the market.
The only thing that you need is to choose your fish and plants and you can enjoy your hobby!
Aqua Culture Starter Kit 29 Gallon Aquarium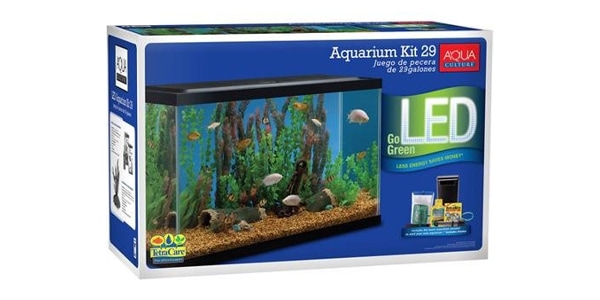 This is a wonderful choice for the beginner aquarist. It includes a 29-gallon tank, LED lights, and a filter.
Also, you get other accessories as a bonus, like fish food and a fishnet.
The low-profile hood allows you to place the tank in any small space and the openings in the hood make the feeding and cleaning an easy process.
You can integrate any kind of decor you want and plants will make everything look fabulous.
Use your imagination to make this tank the main attraction of the room!
JBJ 28 Gallon Nano Cube Aquarium
This is the Ferrari of aquariums. It is one of the best choices that you can make and the investment will pay off.
The most attractive point of this aquarium is the Ocean Pulse wave maker.
It will imitate the natural conditions in the ocean, providing a great visual effect.
But this is not all this aquarium has to offer!
The thermal protection will ensure the appropriate temperature for the fish all the time, and the filtration system is one of the best.
Moreover, you can turn the lights on during the night due to the Night LEDs that are incorporated.
The bottom line, this is an amazing aquarium, for all levels of aquarists.
Plenty of options to choose!
As you can see, you have plenty of options in large 20+ gallon tanks.
Your only issue is which one to buy!
Remember that kits are usually more affordable and are recommended if you are a beginner.
Instead of wasting time researching every piece of equipment, you get them all together from the very beginning.
Take into consideration the type of fish and plants that you want to have; some have special requirements regarding lighting and temperature.
Once you have the aquarium with all its equipment, you can start to explore.
Play with different textures and colors for your decor, and keep the maintenance up to date.
Before long, you will have created a luxurious piece, which will get all the attention it deserves!
29 Gallon Aquarium Inspiration
I've decided to share with you some beautiful aquarium setups in 29-gallon aquariums.
Hopefully, some of the aquascapes below will give you inspiration on how to set up your new tank.
'Pangea' by Andras Peter of Hungary
'Mystic River ' by Efrain Sequera Moreno of Spain
'Nature's Delight' by Kalyan Bhowmick of India
'A New Beginning' by Loh Fui Lee of Malaysia
'Serenity' by Svetozar Bojilov Stefanov of Bulgaria
'Amazing Snow Mountain' by Wong Wai Keung of Hong Kong
Hope you enjoyed the aquascapes above.
As you can see, there's A LOT you can do with a medium-size aquarium whether you are a beginner or a seasoned professional.
What to Look For When Buying A 29-Gallon Tank
New aquarium owners have less experience in keeping aquariums. Most likely, they abandon it early due to persistent errors. However, potential new aquarium owners can avoid frequent errors by keeping the following fundamental aspects in mind. 
Even if you're an experienced aquarium keeper, preparing ahead of time is a good idea. When installing a new aquarium, the first two crucial factors to be considered are cost and size.
Unfortunately, some challenges come with aquariums, like handling, space, and maintenance. As a result, people usually underestimate what is required and compromise, leading to potential future issues.
Aquarium Placement
After you've bought your fish tank, your first step is finding its place. Deciding on space is an exciting and crucial decision for you and your fish. Due to their immobility, large fish tanks will be permanently placed—That's why placing the tank is highly crucial. 
Finding the correct balance in a functional and stylish aquarium needs some time to ensure your fish tank isn't too near the window. Like any other plant, algae requires sunshine to grow and flourish. As a result, the quicker the algae grows, the more sunlight enters the tank. 
If you place your fish tank via a window or skylight, you'll almost certainly have to deal with a dense green growth on the walls and decorations of your aquarium.
Pay Attention to Dimensions
These tanks are available in various sizes with little to no variance. In contrast to other tank sizes, 29-gallon tanks are often divided into long and breeder tanks. The tall tank is 36 1/4 x 12 5/8 x 16 3/4, while the breeder tank is 36 3/16 x 18 1/4 x 12 15/16.
Choosing the Right Make
Acrylic
Many 29-gallon aquariums are made of acrylic. Since acrylic is lighter than glass, it is considered one of its greatest advantages. Because of its small weight, it is also very easy to move and raise. 
If you have a glass aquarium, you will require a stand, but there's no need for a stand in the case of acrylic. In addition, acrylic is considerably simpler to work with than glass when shaping. As a result, glass aquariums are available in various sizes to save money.
Glass
Glass is the most readily accessible and recommended material for aquariums. Glass aquariums have a sturdier and more rigid surface, making them more durable. There is minimal optical degradation while using glass, and you receive a good view of the inside. It has a gleaming, dazzling appearance. Furthermore, unlike acrylic, the surface will not become an unappealing yellow.
The Right Pricing
You should pay special attention to the pricing because you will need to acquire different tools to set up your aquarium. For example, more beginner kits are available for 20-gallon tanks than for 29-gallon aquariums.
Another key consideration is the warranty. Tanks are cheap but do not come with a warranty, whereas other tanks are more expensive but come with a longer warranty period. Again, the guarantee shows the brand's belief in you, and you're merely paying for the added comfort.
Choose the Right Stand
Most freshers always buy a good tank but make a mistake while buying the stand for the tank. You must keep the following factors in your mind:
Shape, size, and weight of Your Aquarium

Stand's material 

Area for the equipment

Set up process 

View which you prefer 
The following two are the best stands for your 29-gallon tank. 
Imagitarium Brooklyn Metal tank stand is one of the top suggestions to look for. It has excellent quality and a price that won't break the budget.
Imagitarium's 29-gallon aquarium stand is sturdy. Because it is composed of solid steel, it can hold the weight of your aquarium. A set of tidy feet is also supplied to assist in maintaining your tank's level.
You can effectively support your tank while also displaying your fish habitat with this superior 20/29-gallon aquarium stand from Aqua Culture. The inverted panels on this aquarium stand enable you to pick between cherry or black finish, giving it a flexible complement to any home design.
The hinged door exposes storage space for aquarium cleaning materials, water treatment products, nets, fish feed, and other aquatic pet care requirements. The top, base, and door are powder-coated to prevent moisture, and instructions for quick installation in the house are supplied.
Buy The Other Equipment
Heater
Reconstructing this incredibly effective system in your tank is your choice.
A tank heater would be a great choice for any aquarium. However, a strong heater is not required for a 29-gallon tank. A medium-powered one will operate without a hitch.
Filter
Filters are necessary for any aquarium because they create a dynamic atmosphere in the tank and transfer nutrients throughout the water column.
Lights
Light is a fundamental feature of all aquatic life. But, unfortunately, lighting not only influences fish behavior but may also harm their health in a variety of ways.
Light is required not just by fish but also by aquatic vegetation. Aquatic plants, like terrestrial plants, need sunshine for growth and development. You'll need an aquarium lamp to recreate this at home.
Hood
A fish won't jump out of the tank if the hood is placed because it slows the formation of water vapor. So a good hood effectively seals the tank except where the heater and filter are located.
Setting up the Tank
Setting up a 29-gallon tank is easier than setting up another aquarium tank. The biggest distinction is in how the decorating and interior design are placed. Before you begin, double-check your inventory to ensure that everything you have is acceptable for usage in a 29-gallon tank and that it also fits your fish's demands. 
Choose a nice spot for the tank after it's out of the way (ideally away from the window). The substrate must be applied first. To keep your fish safe, rinse it first and make sure there are no broken or pointy portions. Now your tank is settled.
Add Creatures and Fish 
When you're ready to add your fish to the aquarium, you should do the following steps:
Float the sealed bag in which your fish arrived on the surface of your aquarium water.

Allow the bag to sit for 10 minutes before opening it and adding a cup of aquarium water. A resealing bag will help it float for another ten minutes.

Repeat the previous procedure until the bag is full. The fish can then be transferred from the bag to the aquarium using a net. Again, make certain that no water from the bag enters the tank.
Following that, your fish is free to swim around and investigate its new surroundings. Finally, when your fish is fit, turn off the lights for a few hours and keep an eye out for any symptoms of violence in your fish population.
Tank Maintenance
Daily, weekly, biweekly, and monthly tasks are part of overall aquarium care and cleaning.
Daily
Check that the equipment is in good functioning order. During meals, keep an eye on your fish. Changes in behavior are a good sign of a possible issue.
Weekly
Count your fish when their fishes die. Their smaller species burn quicker, causing ammonia and nitrite surges. This leads to greater nitrate levels.
Bi-Weekly
Important characteristics to look for in your water are pH, carbonate hardness, nitrite, and nitrate. Next, clean the aquarium's walls. Filter floss is both inexpensive and effective. Begin at the bottom and rinse the filter floss or scrubber many times.
The gravel should be vacuumed.
Monthly
Filter inserts, cartridges, floss, carbon, and elongation should be replaced. If necessary, rinse the entire filter. Next, inspect tubing, connectors, airstones, skimmers, and other components to ensure they are in good working order. Finally, clean the top of the aquarium to ensure that your lighting is not harmed.
Frequently Asked Questions
What Are the Most Trusted 29-Gallon Fish Tank Brands?
There exist numerous brands which provide the best quality tanks from which you can choose the one you like most. SeaClear, Coralife, Fluval, Aqueon, and Aquaculture are a few of the major brands.
How To Set Up And Use The 29-Gallon Fish Tank?
Prepare your staff and plan how you will decorate the tank. Then, pour half of the water into the container and examine your equipment when the water has sat for a while.
Finally, fill the tank with the leftover water and leave it for a few days to settle. You may speed up the process by using alternative filtering techniques or allowing plants to filter the water naturally.
How To Take Care Of And Clean The 29-Gallon Fish Tank?
The advantage of these aquariums is that waste does not accumulate rapidly in these tanks. In contrast to smaller tanks, you will not require a rigid cleaning regimen. Because nitrogen cycling does not affect these tanks, the tank remains clean. Furthermore, the flora in your tank will provide natural organic filtration.
What Is The Best Shape For A Fish Tank?
Long and hollow aquariums are ideal for fish (rectangular). Some fish prefer vertical room, although many fish would choose a long tank over a short tank, and also longer tanks have a larger surface area and a lower depth. Higher tanks have more depth and a smaller surface area.
The larger the tank's surface area, the better the interchange of gases on the water's surface and, therefore, the faster the emission of carbon dioxide and the absorption of oxygen.
Conclusion
Choosing the proper aquarium is critical for the survival of the tank's inhabitants and their capacity to thrive under your control. Size, space, money, and population all should be considered.
Make a list of possibilities and select the one that best meets your requirements. Of course, your fish's range will be constrained by the surroundings you provide for them.
Again, here's my list of recommended 20+ gallon aquariums:
If you have any feedback or suggestion, feel free to comment below or you can comment on The Aquarium Guide Facebook Page.