Typically growing around 2 to 3 feet and often growing larger—exceeding 3 to 4 feet, Koi Fish are vibrant, freshwater species, native to Japan. To accommodate their large size and active swimming practice, 500-700 gallons of pond space per Koi Fish is essential.
A pond setup is similar to a large tank. While water change may be a bit more challenging, most other equipment are similar in terms of functionality. However, they need to be a lot more powerful.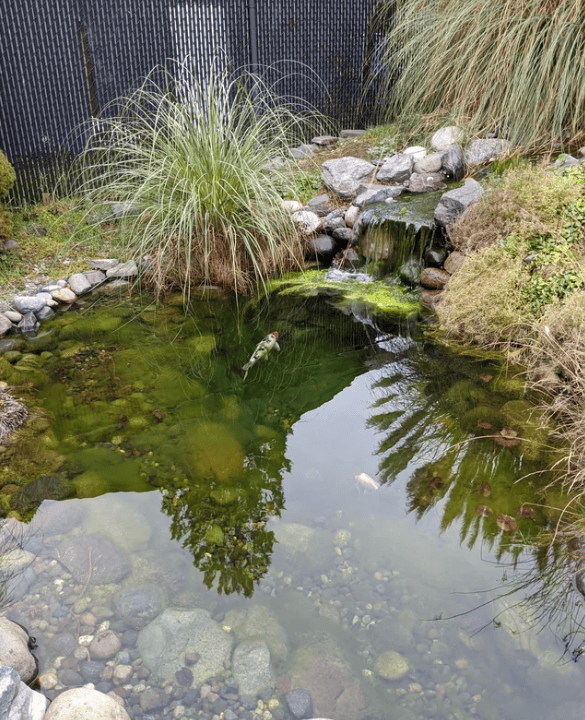 In this article, we'll discuss the best Koi pond kits and share a few important tips about using them.
7 Best Koi Pond Kits
Pond liners are specialized materials, mostly polymers, used to create a waterproof barrier within the koi pond. It's laid on the bottom to prevent water leakage into the surrounding soil. The Total Pond Liner is ideal for medium-sized ponds with 1200 gallons of water.
Features
Sandwiched between the layers of PVC, a mesh of polyester weaving is introduced to reinforce the product and prevent it from leaking and accidental damage.
The PVC liner surface is coarse and textured to promote bacterial growth. It also reduces glare and offers a form of resistance when cleaning the tank.
The TotalPond liner is 35% lighter than standard EPDM liners. Thanks for using PVC, it's much more flexible, durable, and lighter.
This liner is claimed to be UV resistant and doesn't harden and crack when exposed to the sun.
Pros
14.5 inches thick.
Lightweight and easy to install.
Quite durable and flexible to easily mold it to the pond shape.
Cons
Should've been more durable with the reinforced mesh.
Tips
If you need to use multiple pond liners, use seam tapes to waterproof the joints. However, also ensure using waterproof adhesive between the layers with seam tape for better protection.
Being moderately-high bioload fish, sustaining a koi pond requires powerful bio-mechanical filtration. Average canister filters aren't efficient enough to move huge amounts of water required to filter koi ponds. Therefore, OASE BioSmart 10000 is the best option for you. In addition to supporting ponds of volume up to 10K gallons, it has a 3 years warranty on the body and pump.
Features
Multiple filter zones promote a slower water flow through the media. It offers increased bacteria colonization and better filtration to your koi pond.
The filter foams stacked inside the BioSmart 10000 can be cleaned by twisting the cleaning handles. There is no need to remove or manually unclog the foams.
The filter debris, after cleaning, is collected in a chamber to be removed through a 2" slug drain located at the side.
High Surface Area Contact Foam
Satisfying the huge filtration demand, the foams are made larger to accommodate more beneficial bacteria and trap more debris.
Pros
Built-in Thermometer
Venturi Inlets for UVC and Aerator
Cons
Pretty hard to install and the instructions are not helpful.
Needs frequent clean-up.
Tips
Use multiple filtration systems if one isn't enough for your pond. In addition, introduce other filtration equipment with the introduction of other fish.
Koi pond aerators are employed to maintain healthy oxygen levels for fish growth and reduce algae growth and other organic matter. It also helps create a hole in the ice during winter to allow toxic gasses to be released and not become fatal for the fish. To satisfy the aeration demand of large koi ponds, the HIBLOW HP-80 delivers an 80CC air flow rate.
Features
From reducing thermal stratification to reducing algae growth, subsurface aeration helps you to maintain a healthier tank.
Beneficial Bacteria Growth
In addition to allowing you to split the line for multiple diffusers, this powerful koi pond aerator promotes beneficial bacteria growth.
Lubrication Free Operation
As there are hardly any moving parts, the HIBLOW HP-80 can function without any lubrication or oil. You can operate the aerator safely without worrying about oil leakage and contamination.
A rebuilt kit for the HIBLOW HP-80 is available to cost-effectively replace the diaphragms without needing to buy a new aerator for your koi pond. YouTube DIY guides also are available to facilitate the same.
Pros
Quiet and noise-free operation.
Easy installation and well-built.
Works for very large ponds around 10K gallons or more.
Diaphragms are pretty durable and easy to repair.
Cons
Tips
If you have an unusually shaped pool, consider using multiple diffusers. Use a "Y" connector instead of a "T" connector when using multiple diffusers to minimize back pressure.
Koi are pretty sensitive freshwater fish. Maintaining optimal water parameters is critical to sustain a healthy environment and promote their growth. pH, ammonia, nitrite, and phosphate testing kits are most essential when keeping koi fish in your pond. In addition to being one of the most accurate kits in the market, the API POND Master Kit includes the most necessary testing solutions.
Features
A pH range of 5.0 to 9.0 can be measured with this water testing kit. The instruction manual also includes the process and pH fixing recommendations.
Ammonia is the primary substance released by the fish through poop and uneaten food. If your pond has adequate filtration, the results should be close to 0 ppm.
Nitrite and Phosphate Testing
Nitrite is a toxic compound found in water after the ammonia is broken down by beneficial bacteria. It should be near 0 ppm. The phosphate should also be near 0 ppm.
The color cards of this testing kit are easy to read and have clear instructions on how to use them.
Pros
Pretty accurate and better than test strips.
Comprehensive instruction manual.
Easy to perform tests.
500 tests.
Cons
Pricing is in the higher range.
Color charts can be a bit deceiving.
Tips
Give enough time for the reactions to happen. Allow at least 5 minutes with the test-tube cap on to get the most accurate results.
Koi pond heaters are fundamentally quite different from traditional aquarium heaters. Where the aquarium heaters strive to maintain the temperature of the whole aquarium, the pond heaters focus on its proximal areas. The koi fish are expected to gather around the Aquascape 39000 Pond Heater during winter to carry out their hibernation.
Features
Stainless Steel Construction
Corrosion-Free, durable, and non-reactive stainless steel is used to manufacture the Aquascape 39000. SS also helps in easy heat dissipation and transfer.
A powerful 300W heater is employed to engage even the coldest of weather. Your koi will swim around the device in winter without any issues.
Indicating its working condition, the Aquascape 39000 has a prominent LED light over the top to always keep on during operation.
The heater automatically turns off at 70F or 21C to save cost and increase longevity. However, this model can't detect ice to turn on automatically when required.
Pros
Keep a hole opening the ice.
Quiet energy-efficient.
3-year warranty.
Cons
No heating adjustment controller.
Tips
Don't expect it to heat the whole pond. Keep it partially submerged where you feel the koi may feel space.
As koi ponds are mostly found outdoors, they can become pretty hot during the summer. A lack of water-changing opportunities leave Increased evaporation, fountains, and increased water circulation the only options to keep the water cooler in your koi pond. The Alpine Corporation Submersible Pump offers a versatile option to keep water flowing in your koi pond.
Features
Vortex High-Performance Impeller
The vortex impeller creates a funnel-shaped downward whirlpool that prevents clogging and reduces operational costs.
This high-performance pump can push water through the surface to up to 21.5 FT height in the atmosphere, allowing it more time to cool down and reduce overall water temperature.
A compact, energy-efficient split tube motor is used in this model to promote higher performance in a much smaller space.
As it needs to move a huge volume of water, a 3100 GPH flow rate is adequate for a medium-sized koi pond. For bigger ponds, check their other options out.
Pros
Durable construction. Oil-free design.
33 FT Cord to keep it in the shade.
Easy to install.
Versatile operation. Can be kept in both vertical and horizontal directions.
Cons
Tips
If the head flow seems too aggressive to you, try building a waterfall or use the largest diameter adapter bundled with the package.
Outdoor koi ponds are susceptible to predation and eutrophication. Blue Herons, Cats, and other predators may obliterate your koi pond overnight if left unchecked. Additionally, fallen leaves and algae may rot and inject more nutrients into the water than necessary. The AlpineReach Koi Pond Netting Kit helps keep both away.
Features
Small diamond mesh increases durability and prevents predators from harming your precious koi friends.
The smallest of the fallen leaves are captured in the meshes and aren't able to reach the water to disrupt the parameters. It also passes the penny drop test.
Durable adhesion, material, and color ensure safety from scorching heat and direct sun. It doesn't crumble or melt during summer.
The product is large enough to cover most koi ponds. However, they also have larger options for your bigger ponds.
Pros
Very simple to set up.
Diamond-shaped mesh for durability and high tensile strength.
Cost-effective
Cons
Occasionally traps small birds and other wildlife.
Tips
Keep the length loose when placing the net. Overstretching the length will reduce the width due to the diamond-shaped mesh.
Also Read: How Big Can Koi Fish Get?
Buying Guide
Appending to the list, there are numerous other equipment and accessories that you may need to buy to maintain your koi pond. Whatever they may be, a few fundamental pointers always stay relevant for any aquatic product.
Purpose and Feasibility
Focus on the purpose that you intend to solve with a product. For example, if you're from a country where the winter isn't as horrid as the US, you may not even need to have a koi pond heater installed. Rather, invest more in water cooling systems for the longer summer.
Product Rating and Support
Always verify the rated water volume, temperature, or area of application before buying any koi pond equipment. For example, the koi pond netting kit that we mentioned has a maximum area of application. Anything larger than that can't be effectively covered and may present practical issues—possibly fatal.
Warranty
As koi pond equipment is pretty expensive, keep an eye out for the warranty documents and encourage proper registration of the same. Also, be informed about the extent and longevity of the warranty that the company is offering.
The Alpine Corporation Pump, for example, comes with a 3-year warranty on the motor, but not on most components like the capacitors or the impeller.
User Review
Do go through the verified user reviews on the product pages. Focus on the positive ones, but don't disregard the negative ones right away. Consider them as genuine issues and try to find recurring patterns of the issues.
If it's a one-time occurrence, you can take the risk, but if the company hasn't done anything to fix a common problem, they aren't worth your money.
The Bottom Line
We've listed the 7 most used koi pond equipment and the best products in each segment. Hopefully, you'll now be able to set up your koi pond with the products mentioned or by sourcing other products by falling back on our carefully curated buying guide.