Reverse Osmosis Deionization or RO/DI systems are multi-stage filtration equipment that makes regular water safer for aquarium usage. The Deionization part makes RODI systems different from traditional RO filters.
As dissolved minerals are essential for us, and we can't add them separately in our bodies, the traditional RO systems don't remove them from the water.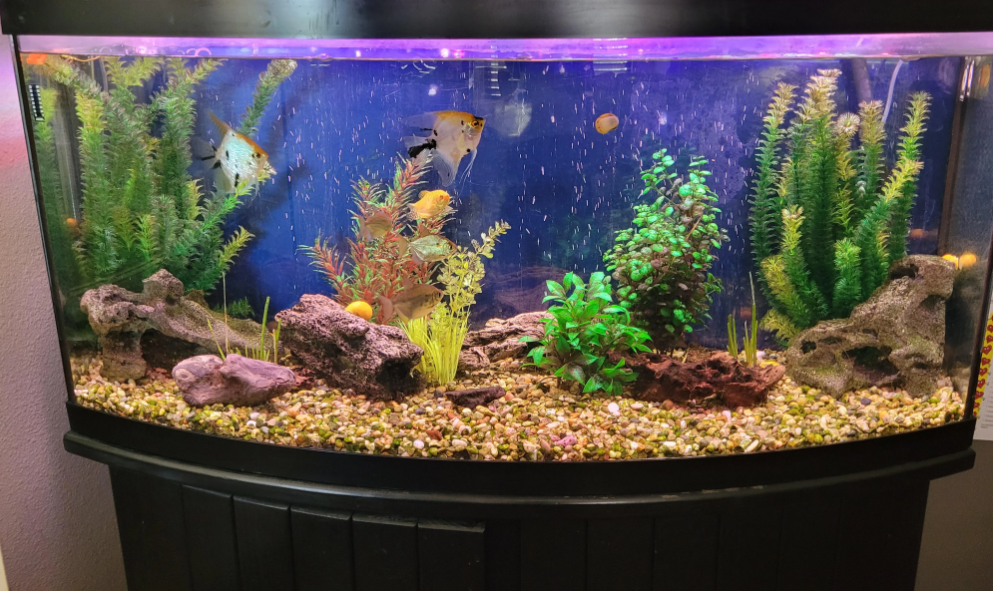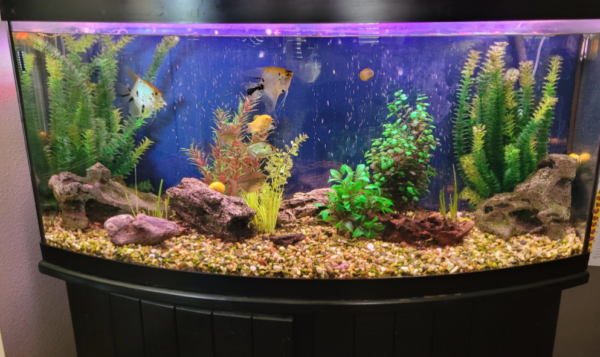 In the case of aquariums, most veterans prefer to add the minerals in appropriate dosages manually. Therefore, having a deionization filter offers them better control over the numbers.
However, more often than not, multi-stage RO filtration systems are adequate for most aquariums, species, and aquarists.
In this article, we'll discuss a few RO and RO/DI systems available for aquariums.
8 Best RODI systems available for Aquariums
Perfect for aquarists who prefer to have a bit more control over the minerals, the iSpring RCC7 removes up to 99% of harmful substances and minerals from the water. As with most RO/DI systems, it solely works on water pressure and doesn't require a power source to operate.
Features
A 5-stage filtration system is employed to remove everything from sediments to chloramines to reach your fish tank. It also reduces TDS by 90% or more, making it perfect for aquarium usage.
Pre-Filters for Low Maintenance
The 5-stage filtration includes pre-filters that engage before the RO and carbon filter to offer longevity and efficiency.
The unit comes with almost every necessary accessory and instruction that you may require, including a plumber's kit and tape.
It easily fits under the sink with a height of 11.81" and a base of 23.62" X 15.75".
Pros
NSF certified through chemical extraction tests, TDS reduction tests, and more.
Better technical support than other companies.
Cons
Excess pressure can cause cracks in the main body.
Designed and built in the US, the APEC PH90 purifies and delivers ultra-fresh and mineral-free water to your fish tank. While it remineralizes the water to achieve a higher pH for human consumption, this step can be skipped to use it solely for aquarium purposes. APEC also guarantees lifetime support and 2 years extended warranty.
Features
Low Drain High Yield Technology
The PH90 prides itself on a low-wastage technology that yields an almost similar volume of pure water to the drain water.
Equipped with three pre-filters, the 6-stage filtration system of this unit ensures safe and balanced water for your fish tanks.
PH90 can handle up to 90 gallons of purified water per day. Its large 4-gallon tanks ensure quick dispensing and fulfilment.
Calcium carbonate is added to the water to neutralize acidity and introduce a few minerals to the water. For aquarium usage, check the pH levels and adjust them accordingly.
Pros
Easy maintenance and installation.
Every accessory is included in the package.
Cons
Striving to become one of the market leaders in RO/DI systems in terms of pricing and customizability, the Express Water RO5DX removes more than 99% of harmful substances and minerals from the water. Moreover, making it the perfect aquarium RO/DI system, it doesn't inject additional minerals into the water.
Features
Promising purity and sustainability, the 5-stage filtration system employed by Express Water consists of SED, GAC, ACB, ROM, and PAC cartridges.
The product checks for unwanted moisture build-up and terminates water flow to prevent leakage and flooding.
Thoroughly color-coded filters are easy to swap and can be done without any professional help. It's sufficient to change the RO filter once a year.
Every unit of Express Water is checked with Air Jet Technology to ensure zero leakage and valve malfunction.
Pros
NSF certified for several water quality tests.
Efficient customer support.
Includes replacement filters
Cons
Equipped with an already pressurized tank, the Frizzlife ROK3-A delivers faster water dispensing and effective reduction of TDS and harmful substances from the water. It reintroduces minerals to the water at a post-filter stage to ensure aquarium usage without dosing.
Features
The multi-layer aquarium RODI system removes heavy metals, chlorine, sediments, and rust from the water to provide your fish with healthy water.
Remineralization Technology
With active remineralization technology, you don't need to inject your saltwater or freshwater tanks with additional minerals. However, do keep an eye on the parameters before performing moderation.
This model saves you on water bills by reducing the wastewater produced by the RODI system. Typically, 3:1 ratios are common, but Frizzlife has brought it down to almost 1:1.
Employing a twist design, every filter cartridge in this product can be replaced DIY without needing to involve a professional.
Pros
No electricity is required.
Smaller footprint.
Fast and efficient tech support.
Cons
The water flow is a bit slow.
Specifically designed for aquarium usage, the Aquaticlife RO Buddie has a max capacity of 1500 gallons and can filter faster than most RODI systems. It uses an AC power source to facilitate the filtration process and removes up to 98% of dissolved solids and sediments.
Features
The 3-stage simple filtration system of RO Buddies doesn't add any additional minerals to the water but eliminates all the substances that are detrimental to the aquatic livestock.
Fulfilling the needs of most water change cycles, 100 gallons of water is produced by this product per day.
You don't need to buy any additional accessories to assemble the unit. The only tools that you may need are for the hanging bracket.
Small Footprint for Aquarium usage
The unit can be hung anywhere without influencing the aesthetics in any significant way.
Pros
Easy to install.
Value for money.
Tankless design for 24/7 water.
Cons
Requires power to function.
Similar to the PH-90 model, the APEC RO-90 is perfect for aquarium usage. The absence of pH enhancement technology in this model makes it better suited for freshwater tanks. It also generates a greater output than most RODI systems, along with eliminating harmful materials and sediments up to 99%.
Features
5-Stage Filtration Process
The 5-stage filtration process removes every harmful substance from chlorine to arsenic and lead. It leaves the addition of minerals to you and lets you control the dosage as per your tank requirements.
Efficient double-capacity filters ensure 2X impurity-removing capacity before you need to replace them.
High-quality JG Fittings grip the hoses with stainless steel teeth and special o-rings for a leak-proof seal.
The RO-90 can deliver 90 gallons of RO water each day, making it an interesting option for water change requirements.
Pros
WQA-approved water quality
Lead-free designer faucet
Easy filter replacement
Cons
Pricing is a bit on the higher side.
One of the most powerful and efficient RODI systems in the market, the SImPure ROULP T1 is NSF and SGS certified with a TDS removal rate of 99.99%. While it requires an AC power source to function, it's powerful enough to sustain large aquarium water changes. The installation setup also isn't very complicated due to its simple design.
Features
Thanks to the powerful input pump, this model of SimPure can deliver 400 gallons of water per day without any issues.
Use only when required with its tankless design and faster dispensing. You don't need to worry about prolonged water change routines anymore.
Eliminate all sorts of bacteria and microbes from the water with UV sterilization. In addition to being safe for human consumption, sterilized water is better for beneficial bacteria colonization in your aquarium.
The T1 prides itself on an 8-stage filtration RODI system that removes every kind of mineral, sediment, and toxic substance from the water.
Pros
SGS certified for exceptional water quality.
Filter change reminder.
Cons
Focusing on wastewater reduction and powered by 8.5" carbon contact per pass, the Home Master TMAFC-ERP is a RODI system with a modular design and a faster flow rate. While it has a larger footprint, it's powerful enough to generate 75 gallons per day.
Features
The purity of water is ensured through 7-stage filtration in this model. 99% of the harmful substances are removed through this process.
2-Pass Full Contact Remineralization
Artesian Full Contact With Permeate Pump strips away the toxic elements like chlorine, metals, lead, and TDS before reintroducing healthy necessary minerals into the water.
This Home Master model strives on wasting a minimal amount of water for the purification purpose. The 1:1 waste ratio seems pretty extraordinary when compared to other RODI systems with a 3:1 or 4:1 waste ratio.
Thanks to a pressurized tank and super-efficient Fast Flo RO system that has larger fittings and tubing, this model offers a faster fill rate than most of its competitors.
Pros
Doesn't require special tools to install.
Modular design. Fits under the sink.
Professional customer service.
Cons
Pricing is on the higher side.
Buying Guide
It's unlikely that your search for a suitable RODI is gonna end here. Moving on from the mentioned systems, we'll discuss a few pointers that are critical when choosing the best RODI systems available for your aquarium.
Filtration Stages
The more filtration stages a RODI system has, the lower TDS and other toxic substances it should have. However, there's a limit to it. The highest extent of purification is often achieved after the 5th or 6th stage of filtration, and it can't be processed further without changing the mechanism of the filtration system (Distillation).
For marketing purposes, many manufacturers claim to have an 8 or even 9-stage RODI filtration that's just wasteful and often false. They claim the remineralization chamber to be another filter.
For you, the aquarist, a 3-stage RODI system could be enough if it lowers the TDS and eliminates unwanted substances.
Demineralization and Remineralization
As mentioned, remineralization often isn't the first priority for most experienced aquarists. If you're one of them and are informed about dosing, you can focus on the demineralization part of the RO/DI system.
However, as an amateur hobbyist, remineralization shouldn't be an issue if you understand pH levels and can manage them. Remineralization often reduces the hassle of dosing additional minerals into the water for sustaining your fish's health.
Waste Ratio
RO systems, fundamentally, waste more water than they produce. While that's inevitable, you can strive to reduce them by buying a RODI system that has better filtration and doesn't waste as much.
For starters, a waste-to-produce water ratio between 1:1 to 2:1 is welcomed. Anything more than that, how effective the system may be, will skyrocket your water bill and reduce the fill rate.
Flow Rate
For those who have a bigger tank, it's absolutely critical to buy a RODI system with a great flow rate. Moreover, if you maintain multiple tanks, a reduced flow rate of, say, 40 GDP, will painfully prolong the already exhausting process of water change.
Ease of Installation
Most RODI systems don't come pre-packaged with necessary accessories and instructions. While we've tried to exclusively review the most complete ones, you may miss a few key aspects when buying other products.
Ensure that you have all the necessary accessories, tools, and skill sets to assemble and install the RODI system for your aquarium. If not, we recommend contacting the manufacturer or hiring a professional to minimize the hassle.
Pricing
As with any other aquarium equipment, pricing is a determining factor. In this case, the pricing not exclusively depends on the efficiency of the system, but on flow rate, power requirement, waste ratio, and filtration.
As an example, if you have a small aquarium of around 50 gallons, you shouldn't need a 400 GPD RODI system to fulfil this single purpose. Do your own research and find out your requirements before committing to the most expensive system available.
Also Read: 5 Filter Types And Their Uses In Planted Tanks
The Bottom Line
We've covered the Best RODI systems available for Aquariums in this article. Hopefully, you'll now be able to determine what you need and purchase the most suitable one. We also have tried to give you an outlook of the process that goes behind the scene when we recommend a RODI system to your customers.