A couple of months ago, I stumbled upon a photo on Facebook and was totally in awe of the Betta fish tank by Brian Murphy. Here's the photo below (I've edited the size of the photo to suit the site's criteria):
I was so in awe of the tank and the Betta that I've decided to do extensive research on them. I would like to believe that I'm now ready to get my first betta.
I will be sharing what I've found about Bettas in the next couple of post such as their feeding habits, the type of tank mates that are suitable for them, ways to breed them and even the different diseases that they might get.
For now, I'll be sharing the different type of Betta fish out there. Hope you will love the first of my Betta series.
Type of Betta Fish
If you are like me and have a strong passion for freshwater aquariums, you have probably considered incorporating Betta fish to your tank. I'm sure you've heard how wonderful Bettas are and how beautiful they can be.
Another reason to get a Betta fish is the freedom to choose a multitude of colors or patterns to fascinate admirers with an alluring aquarium. They are considered as one of the most colorful freshwater fish.
These are the most common types of Betta fish:
Plakat Betta
Closely related to the traditional fighting Betta, the Plakat Betta is easily recognizable from its short tail.
If you are unfamiliar with the Betta fish, you may think Plakat are actually females, since they have short fins and tails.
The tail of the Plakat Betta can be rounded or with elongated rays and a spiky appearance.
When breed with other types, this fish tends to look spectacular due to its various colors.
Crowntail Betta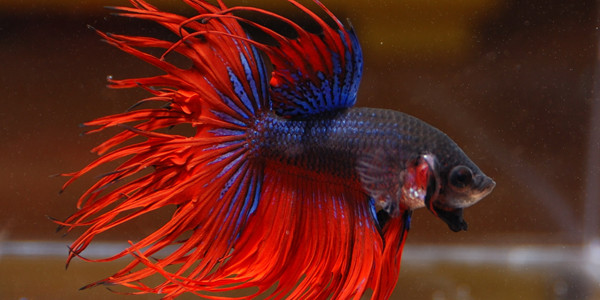 As the name suggests, the tail is what makes this type of Betta so special.
It is the most popular and spectacular type of Betta due to its long, spiky tail.
There are three types of Crowntails: the single ray, the double ray, and the crossed ray.
The crossed ray is the most beautiful type, but also the most difficult to find and take care of.
You should avoid keeping the Crowntail Betta in the same tank with aggressive fish or it will be attacked very often.
These fish also have strict requirements and in order for their tails to keep their shape, the water needs to be completely clean all the time.
They are prone to diseases and aggressive in nature, which is why they thrive better in a smaller tank alone.
Half Moon Betta
With a tail that spreads 180 degrees, the Half Moon Betta is stunning in any color.
To be considered a Half Moon, the tail of the Betta needs to form a complete "D" shape.
Just as the Crowntail Betta, the Half Moon Betta needs to be kept alone or in the same tank with calm species that will not bite their fins.
It is incredibly difficult to breed them because the males cannot wrap the female completely due to the female's long tail.
Double Tail Betta
The Double Tail Betta fish has two tails due to a genetic mutation.
Depending on the initial type of Betta, this mutation can make the fish look very interesting, but they are also shorter than usual and prone to swim bladder diseases (something that I will touch on another Betta series post).
Not many babies survive, so you will not see them in aquariums and even in pet stores very often.
It is not recommended to breed them with other types of Bettas because the babies might be compromised from the beginning.
Combtail Betta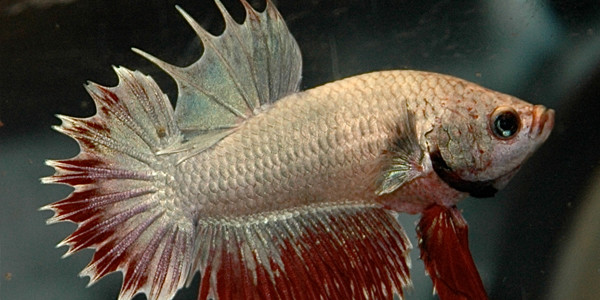 This is usually the result of a cross-breed between a Crowntail and another Betta type.
The Combtail has the shape of a Crowntail, but with longer, thinner fins that give a new appearance to the tail.
You can obtain this type by yourself by simply breeding two different types of Bettas.
Rosetail Betta
A result of careful breeding, the Rosetail is very similar to the Half Moon type, but the tail is much bigger and with ruffled edges.
Although this type looks special, it is difficult to breed them.
The tail will be obtained only if a genetic mutation takes place, but this also means the fish can be sensitive to diseases and die prematurely.
Many Other Betta Types
The wonderful thing about the Betta fish is you can obtain the type and color you want by breeding two different types. (another topic that I'll be discussing in this betta series)
Due to the fact that Bettas have been heavily crossed breed over the years, there are so many types of bettas that I've not covered (for sure).
However, I will try to update this post of new types whenever possible.
And if you know other types that I should add, please comment below with the name and a short description of the type.
Check out more beautiful bettas on my pinterest board below:
Follow The Aquarium Guide (TAG)'s board Betta Fish on Pinterest.
PS: Check out interesting facts about betta by EarthsFriends where I get some of my useful information for this betta series.