Aquariums are wonderful and are a real pleasure to have in your home. They are a great way to improve the appearance of your house or office and they are wonderful alternatives for people who do not have enough time for a pet.
Conversely, once you set up your tank, you discover you still need time to care for it. Sure, you only have to change the water once per week and arrange the decorations in the tank, but what about feeding the fish? Some species need to be fed twice per day and you may not always have the time to do this yourself.
To prevent any problems, you can buy an automatic fish feeder. With this helpful piece of equipment, you will never have to worry about hiring someone to feed your fish when you have to work late or go on vacation or if you realize you did not feed them properly in days.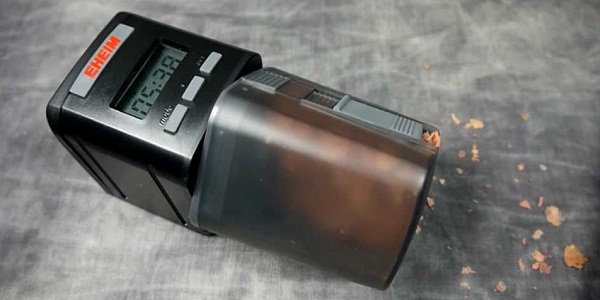 A great feeder to invest in is the EHEIM Everyday Fish Feeder.
First of all, it is very simple to use—no installation or adjusting any pieces. The feeder has a container that you fill with the fish food, enough for a week or so, depending on how big your fish are and how often they need to be fed. When you measure the amount of food you also have to take into consideration the type of food the fish will receive. The feeder will work just as well with powder food or big granules.
The container of the feeder has an opening from where the food will come. This opening needs to be directly above the tank;the simplest thing you can do is mount it on one of the walls of the tank. The feeder is compact, so the cover of the tank will not be disturbed.To adjust the amount of food your fish will receive for every meal, you open or close the door. A small, but important element in this filter is the tiny fan on the top of the feeder. This will keep the food dry and it will prevent the granules from sticking together, even if they are in the feeder for a long period of time.
The EHEIM Everyday Fish Feeder can be programmed to feed your fish from one to four times per day, making it excellent for fish that feed often. You can program the feeder to release food once or two times per meal. Also, it is battery-powered so as to not use extra electricity just for the feeder. Before you decide to leave your home and turn on the feeder, check if the batteries are fully charged; the device cannot work without them and your fish will be left without food.
When programming your feeder,make sure the food you put in the container will not be destroyed (fresh food, worms, etc.) and you only use dry food that can be preserved for more than a few days. Also, keep in mind this feeder is not large and will not provide for a week for a larger tank containing thirty fish.
Conclusion
If you want to feed your fish randomly, outside the scheduled time, there is a small button for feeding at any time. On the digital screen you will be able to see how much time is left until the next feeding and you will also see the time that you choose when you set the feeding times. Every once in a while it is indicated to empty the feeder and clean it thoroughly.
This simple device can definitely make your life easier and it comes with a very affordable price, not to mention it is easy to use.