If you are interested in frag tanks, then it is likely that you have decided to take your coral growing hobby to a new level. The coral fragging area is relatively new and exciting. Corals are rewarding to grow. Not only do they grow well under the care and ideal conditions, but they will also earn you a pretty penny!
If you want to build a frag tank for fun or are serious about fragging corals and earning some money, this guide has covered you.
Let us start with what frag tanks are and move on to how to set up your very own frag tank and some top-tier recommendations on where to start.
What is a Frag Tank?
Frag tanks are tanks that you create with the sole goal of placing corals to grow and evolve into their colonies. The corals in frag tanks are often taken from the display tanks and kept into the frag tank. 'Fragging' essentially means cutting the corals and re-planting them in a healthy, new environment. Frag tanks make growing corals a much easier task for several reasons. Frag tanks are shallow and easy to care for, change the water, and use small-sized resources.
Keep reading to find out how to set up your very own frag tank.
6 Best Frag Tanks Reviewed
Fiji cube AIO box is an all-in-one kit that is a great, compact option for beginners to start with fragging. The Fiji tank is a 30-inch long tank and 12 inches in height. It is not deep and has the proper depth to clean and maintain easily. You can also decorate it pretty well with LEDs for a stunning coral display. Even if you buy a standard rimless tank or a regular display tank from your local store, this kit will help you elevate your fragging game. Using the Fiji kit, you can hide the eye-sore parts of the tank. As a result, it functions as an excellent frag tank and gives you more space to work.
But, one con of this setup is that the pump attached to is not powerful enough. You might have to make an extra purchase with a wavemaker. Some variants of this kit do not have a pump at all.
Specifications:
AIO box comes with a pair of magnets and a pair of acrylic clamps
AIO Outer Dimensions: 10.80″ x 4.76″ x 11.60″
Skimmer & Return Section: 4.4″ x 6.53″
Return Pump Rate: 210 GPH
Pros:
Easy availability
You can use it with low or standard quality tanks as well
Easy to install
Cons:
A little expensive compared to its counterparts
The pump is not very long-lasting
– – –
The Lifegard Low Iron Ultra Clear Crytal aquarium is a rimless tank option in a peninsula style, beveled edges glass. The company boasts of adding in a side filter that seamlessly circulates the water and can house both freshwaters and saltwater creatures. It has a direct jet flow pump, which is instrumental in keeping the water clear. The ultra-low iron glass gives a clearer view of the ongoings of the tank. The tank can hold up to 24 gallons and is overall a great pack.
The height of the tank is high, so you have enough area to keep different kinds of corals.
Specifications:
Color – Clear
Material – Submersible Pump and Filter Media
Ultra-Low Iron Glass – Beveled Edge
Item Dimensions (LxWxH) – 24 x 15 x 16 inches
Item Weight – 42 Pounds
Style – Aquarium with Filter
Shape – Rectangular
It includes a Quiet One submersible pump, bio balls, carbon media, sponge filters, an aside or back filter, and a bottom insulation pad.
Pros:
Cost-effective
Ultra-clear glass
Rimless aquarium lends an aesthetic effect
Cons:
Too heavy to be carried around
Not a very powerful pump
– – –
This is a unique tank option with a curved glass design. For fragging, you will need to cover the inside, though, as it is a blue shade, disturbing the look of your corals.
The size options range between 3.4 gallons to 10 gallons. Penn Plax Aquariums are durable with excellent quality and rarely have issues. Since this is the kit, it features many valuable items such as a mat, LED light, a filter, and even a lid. The lid may not be of the best quality, but this aquarium is an excellent choice for the price tag. The dimensions for this tank are 12 x 11 x 17 inches.
This height is perfect for fragging, as it is not too deep nor very shallow.
Specifications:
Color – Multicolor
Material – Glass
Item Dimensions (LxWxH) – 7 x 12 x 10 inches
Item Weight – 8.35 Pounds
Style – 3.4 Gallon
Shape – Rectangular
Has a finely constructed bent glass that's 1/8" thick
Includes Glass Lid, Clear Mounting Clips, Cascade 170 Internal Filter (45 GPH), Black LED Light, and Mat.
Pros:
Packed with a kit: 10 LED fixtures, CIF1(a UL approved Cascade Internal Filter), and a lid
High-quality, low-iron glass
Unique bent glass design
Comes with a lid
Cons:
The filter is not of an excellent quality
It takes up a lot of space inside the tank and is blue
You will need to buy a pump separately
– – –
Landen tanks are pretty eye-pleasing. Not only does it look great, but it is a popular recommendation among experienced hobbyists. This rimless aquarium provides splendid visibility. But, it is not all beauty and no use. This option is very affordable, making it the perfect choice for anyone looking to buy a good quality rimless aquarium. The dimensions of this tank are 23.6 L x 11.8 W x 14.2 H.
The tank has only a black foam leveling mat. But, this aquarium is not a kit, which means that you will have to buy other items like filters, lights, etc., separately.
Specifications:
Color- Clear
Material – Glass
Item Dimensions (LxWxH) – 23.6 x 14.2 x 11.8 inches
Item Weight – 26.2 Pounds
Style – Simple, Minimalist
Shape – Rectangular
6mm thick heavy-duty glass with high light transmittance and low-iron
More than 91% transparency
Black Nano foam leveling mat included.
Pros:
Visually appealing
Trustworthy company
High-quality
Clear visibility
Affordable option
Cons:
It isn't available as a kit. You will have to buy essentials separately
Not a good choice for beginners
– – –
The BEGONDIS Aquarium is a very small-sized tank (2.2 gallons). With superb quality, it is a perfect small-sized frag tank. This tank is made of low-iron glass, and the company boasts that they provide brilliant clarity. BEGONDIS always uses thicker glass than other tank manufacturers.The tank has a 5mm thickness crystal clear low-iron glass. The tank dimensions are 7.9 L × 7.9 W × 7.9 H inches – and the height is perfect for a small propagation. This tank is a great option for beginners who would like to test the waters first.
A great thing about the BEGINDIS tank is that it is pretty cheap.
Specifications:
5mm thickness, crystal clear low-iron optical glass
More than 91% clarity
Tank Dimensions: 11.8″ L × 11.8″ W × 11.8″ H (30cm x 30cm x 30cm)
Capacity: 7.1 gallons
45° mitered edges
German silicone
Pros:
It comes in two shapes: cubes and rectangle
Each piece is tested
Leak-proof
Glass is thicker compared to others
The tank uses low iron glass
The brand boasts of having more than 91% clarity
BEGONDIS offer free shipping
Con:
Is available in limited sizes only
No tank lid
– – –
Our top recommendation is the Innovative Marine Nuvo Fusion Pro 2 series. It is an all-in-one tank. The tank is a lagoon-shaped one. It is the perfect size and depth on a excellent frag tank. The height of the tank is just 12 inches, which enables you to use powerful LEDs to display your corals. In addition, the company boasts of using ultra clear glass that gives you stunning visuals. The pump that comes with the tank is potent and one of the highest quality ones in the market.
The Fusion Pro 2 is a 25-gallon tank and features two outlets to keep the water flowing. The tank comes with a lid, which is good for jumping fish if you keep any with your frag.
The NUVO tanks can be used as freshwater or saltwater tanks, making them highly flexible.
Even though it is a little on the pricier side, it is an excellent tank for your frags.
Specifications:
Approximately 25 Gallons
Outside DIMS: Length 23.62" Width: 19.68" Height: 11.8"
Display DIMS: Length 23" Width: 15.87" Height: 11.8"
Low-iron Glass-Beveled and Polished Edges
Glass Thickness: 8mm
Pre-Assembled SafeScreen Mesh Screen Lid
Pre-Installed Rubber Leveling Mat
Micromax Magnetic Glass Cleaner included
MightyJet 15W/24V 326 GPH DC Return Pump comes with the Controller
Pros:
It comes packed with a lot of equipment
Perfectly built for frag tanks
The pump is one of the best ones in the market
Low-iron beveled edges glass
Cons:
Not budget-friendly
Not portable due to its weight and glass size
– – –
Types of Frag Tanks
You can create different types of frag tanks based on your preference. Each of these types has its upsides and downsides.
Display Frag Rack
Using a Display Frag rack is the most basic type of fragging. You only need to purchase a magnetic coral rack and keep your coral frags on top of it. Not only is it eye-pleasing, but also cost-effective. Magnetic coral racks are cheap and readily available. But, if you have a growing coral collection, then the stand will look tacky everywhere. In this case, you might have to develop alternative solutions to display your beautiful coral collection.
Integrated Frag Tank
Integrated frag tanks are the ones that connect your display tank to a pipe or plumbing. The tank is 'integrated' because it uses the same water but separately. This can be a good thing because you can easily share all the necessary nutrients in your main tank with your integrated tank. A problem, however, is that since the tanks are connected, the risk for disease is high and severe. If one tank is infected, so will the other.
Standalone Frag Tank
The best of all our options is a separate, standalone frag tank. Since it is standalone, there is no risk of infection from the neighboring tanks, and neither is it an eye-sore like a magnetic rack-filled tank would be. Standalone tanks help to monitor the pest outbreaks and contain them. The only disadvantage to keeping a standalone tank is that they are difficult to maintain if you are on a budget. The tank upkeep is expensive because you will be assembling it from scratch. But, if money is not an issue, then a standalone tank will prove to be a fertile ground for your coral to live.
Sump Frag Tank
Sump frag tanks are tank set up commonly found in aquarium sumps. In sumps, a part of your aquarium also houses a separate aquarium. Sumps are usually placed inside a tank to separate two species of fish. In the case of fragging, a sump can help you create a fourth room in your aquarium that will allow you to display your coral collection without needing a separate tank. You may use a grow-out light to grow the frags. If you have limited space and fewer resources, a sump frag tank is your best option. But, the pros of this method are several. The biggest is that sumps are often hidden away or out of sight. Also, the lack of space might prove frustrating when it comes to the water flow. The matter is that there is not enough space to work freely.
If you are an advanced-level hobbyist, we highly recommend that you try for a standalone tank instead of considering the other options. The output value for a standalone tank is pretty rewarding.
What Should I Put into a Frag Tank?
All the decorations aside, your frag tank can house some reef-friendly fish as well. There are two types of tank setups you can have: one with only corals and one with fish along with coral.
Coral setup:
If your tank does not do well due to fish (you will know this if your ammonia and nitrate levels spike), the only alternative is to keep your frag tank fully organic. Then, feed your corals regularly and artificially insert some nitrate pills into the water to make up for its absence.
Coral and fish setup:
Many fish are very reef-friendly! Fish make up for the absence of vital nutrients in the frag tank. So, if your fish and corals agree with each other, we would highly encourage you to have some fish in the tank. But, you will have to be extra careful when it comes to tank hygiene because fish might produce a lot of diseases or waste.
Coral that Grow Well in a Frag Tank
You can frag almost all corals. Propagating corals is not always a smooth ride, but it is relatively easy to frag them than most fish. To frag a coral, you will need practice and expertise. One wrong snip and you might permanently damage your parent corals. To make sure that your corals do not stress and stop growing, look at some corals that are easy to propagate in a frag tank.
Leather Corals
Leather corals are mushroom-like corals with a unique quality: they change their appearance over time. They are green in color and have tentacles that might retract from time to time. These corals act as beautiful centerpieces in any display tank. The leather corals clean themselves and produce a waxy liquid at their base. They are pretty good to be fragged and propagated.
Star Polyps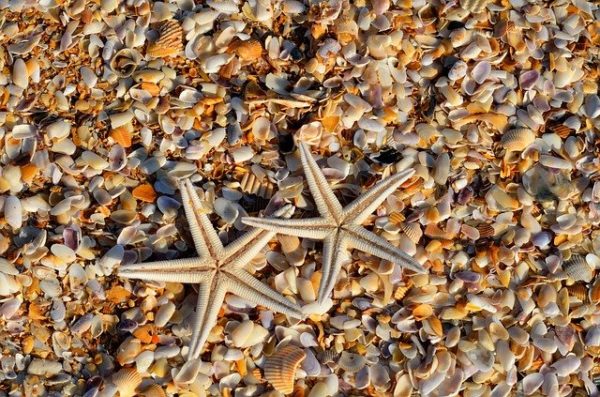 Star Polyps are the most common corals found in frag tanks. Amateur coral-hobbyists should start with the Polyps because they are easy to grow and care for. Also, since these are a common variety, they are available in plenty and are cheap.
Open Brain Coral
Open brain coral, scientifically known as Trachyphyllia, is a typical large polyp stony coral. These are versatile and are popular amongst hobbyists of all levels. They are living corals and can move around, usually in the water flow direction. They are available in various colors such as lime, pink, orange, yellow, red and are highly sought after. If you frag the open brain coral, use contrast lighting to enhance its color.
Bubble Coral
Bubble coral is a variety of large-polyp stony coral, similar to the Open brain coral. Bubble coral is a slightly more challenging coral variety to propagate and are demanding for new hobbyists to care for. Their tentacles expand during the day and contract during the night. These are also very delicate, and you should be careful not to place them in an area with a strong water flow.
Trumpet Coral
Trumpet coral is a popular choice due to its gorgeous appearance. It has a sea green or a blue-green color. In addition, trumpet coral is easy to grow, perhaps the easiest of them all. To propagate them, you only need to remove one of its polyps and keep it in your frag tank. After that, the coral will do the rest itself.
Tips on Setting Up a Frag Tank
Most people get hung up on the appearance of the corals in the tank and often ignore setting up a tank that will help them thrive – not just look pretty. So the biggest tip to set up your task is to remember that elements such as tank size, free space, tank depth all matter – and not how they look.
It would help look for several factors when setting up your frag tank.
Lighting
The lighting requirements of your tank are dependent on the corals you frag. Most frag tanks are shallow, so they do not need a lot of direct light. Even something basic like an LED will do the job perfectly well.
Filter
Most tanks come with an in-built filtration system. Filters are necessary to cycle out any debris in the tank. Unfortunately, the lingering residue will infect your growing corals – so try to keep your tank as clean as possible. Several filter options are hang-on-the-back, submersible (fully and partially), non-submersible, etc. Pick one that is affordable for you to use in your frag tank.
Water flow
Water flow and movement are essential for the growth of corals. However, if you have a sump tank, the water movement might be minor or absent. In this case, you might have to buy a wave-skimmer or a normal powerhead to keep the water flowing around.
Heating system
Even though corals do not have a high heat requirement, they need the water to be slightly warm. If your tank is in colder climates, it is best to invest in a heater to keep the frag toasty. Remember that your heater size depends on the tank size. The bigger the tank, the more influential the heater needs to be. Ideally, using a heater that gives you 3 to 5 watts of power per gallon of water is good to go.
Frag racks and other decors
Frag racks are a decor item that can hold your frags for display. Apart from adding them, corals do not need another decor like sand or rock. It might interfere with the coral's ecosystem and stunt their growth. Instead, you may use an egg crate and some racks as your decor.
Some miscellaneous tips to keep in mind when setting up the tank are:
Ensure that all your equipment is sterile and clean – coral fragging is a job that requires utmost care. If you use knives or scissors without sterilizing them, you may risk infecting your coral.
Do not add too many things to your tank. Coral fragging needs space and time.
Cycle your tank before adding the frag to the tank.
To keep the tank free of algae, you may add some 'cleaning agents' to the tank, such as snails or urchins.
Try to keep your tank as bare as you can. Having a lot of equipment will look shabbily arranged and remove the free space.
Use a bare bottom tank if you can, and add some racks or crates to decorate the space with.
Ensure that your tank has a large enough area for the compulsory equipment like racks and crates.
Go in for a long and shallow tank that can accommodate your demands. An external tank is much easier to maintain than a deep one.
If you are looking for your tank's aesthetic beauty, consider rimless aquariums for the sleek look and space they offer.
Remember to remove your coral when you cycle the tank. Most of the time, corals do not survive cycling.
The Best Frag Tank (Editor's Pick)
The best recommendation on this list is the Nuvo Fusion Lagoon tank. Not only is it a good, self-sufficient frag tank, but it is also aesthetically pleasing. If you only have a home use and have a reasonable budget, then this is the one you should go for.
Conclusion
Frag tanks are the way to go if you want to dip your toes into the field of coral propagation. Setting up a Frag tank is a rewarding and straightforward process. To set one up, you do not need fancy equipment. If you take care of the basics, such as lighting, water flow, filters, heaters, and frag racks, you will have a beautiful frag tank and pearlescent corals on your hand. You can choose to propagate them separately, as we have discussed, or you can plant them in an already existing tank. You may sell them too or create a coral collection. We hope that this article answered your questions and that you are well on your way to creating your very own coral collection!