We would all love to have a huge garden with massive fountains, but space and cost are usually a definite "no" to these. Luckily, you can have a beautiful fountain in your backyard, no matter how small it is, simply by using a pond fountain pump.
Pond fountain kits are affordable and versatile. The kits come in various sizes, so you can create a fountain in any body of water, from your birdbath to your small fish pond.
Let's learn which pond fountain kit will work best for you.
Our Best Picks for Pond Fountains:
How Does a Water Fountain Work?
A pond fountain is designed to work in minimal space, with less water depth than the large-scale fountains you see in parks and luxury gardens. But whether it's a pond fountain or a large lake fountain, they all work the same way. The only difference is that a pond fountain can work in a small bucket of water or a fish pond in your backyard.
The core of the fountain is a water pump, which is usually submersible. The primary job of the pump is to move water. However, these fountain pumps also lift the water higher through the head to spill out like a spray of water.
The head of the fountain is like a nozzle or a hose end. In most cases, you can change the pattern, and the strength of the water spray depends on the fitting. You can customize the fountain to dribble as a mist or create a specific spray pattern. Some high-quality fountain fittings allow you to make swirly or artistic patterns.
When choosing the spray pattern, the overall size of the pond's water surface is an important consideration. The fountain area should be smaller than the pond, ensuring the water from the fountain falls back into the pond.
The fountain helps circulate the pond. Fountains break up the water surface to prevent any stagnation or accumulation of debris. This keeps the fountain water cleaner for longer.
This is how fountains function and pond fountains follow the same principles.
Top 10 Recommended Pond Fountain Kit Reviews
1.
No products found.
No products found.
Scott Aerator is a US company that designs fountains that maximize splash and water movement. The end goal of the Scott Aerator, as its name suggests, is to keep the water aerated. It moves a volume of 400 gallons per hour in a fast flow. The water height can reach 6.5 feet, and the spray diameter can extend as much as 22 feet wide.
The material of the pump is stainless steel, and the motor offers oil-free operation. It comes equipped with a 70-foot power cable. The warranty ensures long-term service. In addition, it is ice-proof, so there is no need to unplug it in winter.
Specifications:
115-volt engine
1/2-horsepower
Oil-free motor
400 gallons-per-minute flow rate
Water spray of 6 feet high and 22 feet wide
Electric cable – 70 feet long
12-gauge submersible electric cable
Electric cable is available in longer lengths
Light kits can be added at purchase or later
Approved for saltwater
Pros:
5-year warranty
Trustworthy company
High-quality products
Different size models available
Cons:
– – –
Because of its highly customizable appearance, the Patriot Pond fountain creates a stunning display in pools, spas, ponds, and water gardens. It has 48 LED lights built into the light ring that fits onto the spray nozzle. It also comes with a wide water fountain spray diameter, which you can adjust further.
The customer service is pretty good as the parent company provides in-house support.
Specifications:
Corded Electric power supply
Light colors – Red, Green, Blue
The body is made of plastic
600 GPH
60 watt pump
48 LEDs — Blue, Green, Red
Adjustable fountain nozzle
Float size: 13.5" x 2.5"
Pump depth of 8" below the float
Two 30-foot power cords
Low voltage transformer
1-year warranty
Pros:
Easy to install on your own
Pump spray patterns are adjustable
It has automatic light features, with 48 LEDs that can change pattern automatically
Best size for small to medium ponds
Cons:
Small filter compared to its counterparts
High chances of clogging
Only a 1-year warranty
It needs two different outlets (one for the pump and one for the lights)
– – –
The Pond Boss floating fountain is compact with lights and an impressive water display. It also automatically illuminates the fountain at night for a beautiful garden feature, thanks to its dusk-to-dawn sensor.
The pump is mounted on a floating platform. Since this is a full fountain kit, it comes with three different fountain heads. I love that you can change and customize the spray patterns according to your preferences. 
The first fountainhead is a trumpet-styled one, the second is a single-tier, and the third nozzle is a three-tier spray pattern, giving you many pleasing displays to entertain your friends with.
The pump features a 50-foot power cord and a 150-foot mooring line. This means you can also place it in a large body of water.
Specifications:
Electric powered
Energy-efficient motor to cut costs
Material – PVC, ceramic shaft, and bearings
2,000 GPH pump
Durable
Aerates and decorates medium to large ponds
Minimum operating depth – 2.5 feet
Pros:
It comes with a mooring line
Floating pump reduces clogging risks
ETL certified
3-year warranty
A dusk-to-dawn automated sensor
Cons:
Replacement parts are costly
– – –
The Custom Pro FT3500 creates a beautiful ornamental fountain. It has four different nozzle variations: a gusher, a skinny trumpet, and two V-shaped nozzles.
The gusher spray is 18 feet tall, and the skinny trumpet creates a 12-foot-tall display. The V-shaped displays vary in height, depending on the nozzle diameter you choose, and one nozzle includes a small geyser.
The pump is easy to assemble and move around, thanks to the 100-foot-long cord included in the kit.
The model also has a basket-like pre-filter for added clogging protection.
Specifications:
Electric motor
3,500 gallons per hour pump
Nozzle kit for four kinds of fountain sprays: a gusher, skinny trumpet, or V-shape
100-foot-long electrical cord
Steel filter basket
Heavy-duty plastic float
Tether rope
Pros:
Creates different fountain shapes
The height range is vast (4 to 16 feet)
Lifetime warranty on the float
Many customization options are available
Cons:
– – –
The Viajero (2021) 4W Solar Fountain with a 3,000mAh battery is a compact powerhouse. It is solar-powered and eco-friendly. The solar fountain pump will automatically shut off if there is no water or the pump gets blocked by debris.
his protects the pump from running dry and suffering internal damage. The company boasts that the model is designed so that the fountain will continue to work and spray water at a consistent flow even if three or four of the solar panels have been covered by debris.
The water spray height is up to 20 inches long.
Specifications:
Solar-powered with battery
Plastic float and pump
3,000mAh battery pack
Premium quality solar panels
Four different nozzles included
Pros:
No electricity is required as it's solar powered
Functions in overcast light conditions
Compact and suitable for small ponds
Cons:
Only 1-year warranty
Minimal pond water aeration
Functions best with sunlight
– – –
For a cost-effective display, the Yawank Store 15-watt fountain water pump is ideal to grace your small to medium size pond or large bird bath. The pump cycles through 220 gallons per hour, making it an excellent choice for a small 50-80 gallons water feature.
The fountain pump has two nozzles that offer a blossom and mushroom spray head each for four spray features. The addition of multi-colored LED lights helps to brighten a dark corner in your garden at night.
Despite the small size, the pump can push water up to 59 inches for an impressive waterhead. 
Everything is fully assembled, so you can plug in the pump and enjoy it.
Specifications:
Electrically powered
6-foot power cable
It comes with two spray heads
59-inch waterhead for a tall water fountain effect
Pros:
Fully sealed and suitable for freshwater and saltwater purposes
Lightweight and easy to install
Suction cups help negate the use of weights or anchors
Four water patterns
Flow control helps manage water strength
Budget-friendly price
Cons:
Suction cups tend to malfunction in time, so adding weight or an anchor is advised 
– – –
Looking for a pump that's slightly bigger and suitable for a gorgeous water show? Then the Yzert pond fountain pump is ideal for you. The pump is very reasonably priced, despite offering a luxurious range of features.
The pump can push a waterhead of 27.6 inches, which becomes all the more impressive with the two-tier spray function, creating a double cascade of water. At night, you can enjoy the feature with the aid of the LED lights that are already fitted to the floating platform. You can choose between colored or white light LEDs when ordering. 
With a 32.8-foot electrical cable, you know that this pump can work in most medium to large ponds. The pump has a built-in filter, with extra sponges to help protect the motor from particles.
Specifications:
Floating pump
Tall waterhead of 27.6 inches
Double ring of water nozzles for a double pattern
Pre-circulation filtration to keep the motor free of leaves and muck
Pros:
Great price
12 white LEDs or 12 colored LEDs
It comes with three spray nozzles
Produces multiple spray patterns
Extra-length power cord for medium ponds
Cons:
The fountain doesn't include anchors, so you may need to add a weight
– – –
Combining your pond with some lovely fish or aquatic plants is most pleasing, but it requires extra filtration to keep the water looking great. The Pennington Aquagarden is your new best friend, as this unit is a fountain pump and multi-stage filter all in one.
The filter base has a filtration chamber that easily fits ceramic beads, which helps with biological filtration. At the same time, the unit also has a UVC lamp to help eliminate harmful microorganisms that cause algae bloom. The three fountainhead options offer three beautiful spray patterns – daisy, daisy super, and waterbell.
Combine the excellent cleaning power with surface aeration, and your fish and plants will thrive. The pump helps you more clearly see these because it has a LED spotlight that illuminates the spray at night.
Specifications:
Pump filters and aerates up to 200 gallons
Includes three fountainheads and adjusters
The filtration unit clears and clarifies water
4-foot high waterhead for fountain
Easy installation
Pros:
Many features, while still being fairly priced
Two-year guarantee
Includes filtration media (sponges and ceramic biomedia)
Fountainhead is adjustable with a ball-joint
Available in four different size motors
16-foot electric cable
Cons:
Requires a pond depth of at least two feet
– – –
Going big does not always cost an arm and a leg. The Coodia fountain pump delivers 730 GPH suction power, creating an eight-foot waterhead, with four water patterns.
The pump kit comes complete with all the nozzle attachments, four spray heads, and the extension for a taller waterhead. With an energy-saving 55-watt motor, the Coodia is a great fountain motor that anyone with minimal technical skills can install.
The fountainhead shaft has a detachable LED ring featuring color-changing lights.
Specifications:
Electric powered
6.2-foot power cable
8-foot lift height
Four patterns: Mushroom, blossom, frothy, two-tier style
LED ring
Pros:
Magnetic ceramic rotator for greater motor strength
Circulates 730-gallons per hour
Affordable
Easy to install
Complete kit with all accessories
Cons:
The cord is too short to reach the power outlet effectively
– – –
A large fountain pump won't do for a very small backyard, especially if your pond is small or just a birdbath-sized body of water. Luckily, the JuTai birdbath fountain pump is ideal for such a setup.
Despite being small, this pump kit has a full-house range of features. It has seven nozzles to create unique water patterns, LED lights for nighttime enjoyment, and a whopping 16.4-foot electric cable for easy connection.
With a flow-control, you can change the height of the spray head, and it can be anything from 15-27 inches tall. The 1-year warranty ensures peace of mind, but it's really not even necessary at the great price.
Specifications:
16.4-foot power cable
Adapter
12V power supply DC
Includes built-in filter
Cleaning kit provided
Nozzles included for various spray patterns
LED lights
Four flow-strength settings
Pros:
1-year guarantee
Excellent price
Good suction power
27-inches waterhead for fountain
Includes seven nozzles
Extra-length power cable allows greater reach to backyard connections
Cons:
Flow can be too strong for fountain heads, which can lead to them disconnecting
– – –
Types of Fountain Heads
Fountain heads create different spray patterns. There are different types of fountain heads that you can choose, depending on your budget and desired effect.
These fountain heads vary in size, design, water stream, and the sound produced.
There are foamy heads that turn the water into bubbles. Some other spray heads create a gentle stream of water that trickles down. Some shoot water with force and make a lot of sound. Plastic fountain heads are popular for backyard fountains. However, if you choose a high-pressure fountainhead for a small pond, the pond won't contain the spray, draining the pond.
Fountains used in large ponds and lakes are high-grade, commercial fountains that use high-pressure pumps. Using something as powerful in your much smaller home garden will be disastrous.
Cost-wise, plastic is more affordable for a backyard fountain. Plastic fountains are easy to maintain, clean, and replace as need be. You will find many options for patterns and height with plastic fountain heads.
The last thing to check is that your fountainhead extends outward and upward from the water surface so you can see the pattern. If the pattern is lost, you may need to use an extension tube and attach the fountainhead to the tube.
How to Choose The Right Size Fountain?
The pond kits we reviewed here are all-inclusive, so they come with everything you could possibly need for your fountain setup. But, it is best to know exactly what you must look out for when shopping for a pond fountain kit.
The Water Flow Range or Power
The water flow range is measured in GPH (gallons per hour). The water flow range or pump power needs to be the first thing you consider before purchasing a fountain kit. If you choose a pump that is too weak for your water source, your pump will choke.
On the other hand, if the pump is too strong and produces too much pressure, the water will shoot up too high and away from the pond, draining your pond.
The size of the fountainhead matters, too. Using a high-flow head on a small-sized pump will produce a weak fountain. With a slow-flowing or misting head on a strong pump, the feedback could damage the motor.
Depending on the pond area, you will need a 50-GPH pump, at the least.
Consider the head height:
The head height is the height of the fountainhead that sends the water spouting up. All water pumps provide the flow rate in gallons per hour, which is the unit to measure their power.
Remember that the longer the fountainhead fitting is, the more the pump needs to push the water. And the greater the distance the pump needs to push, the harder it has to work. So this is the head height.
For instance, a submersible pump with a 100-gallon per hour capacity pump might only work at half capacity if it has to push the water up to 1 foot above the water surface.
It is essential to check the pump specifications to get the most out of your pond fountain.
Determine the Fountainhead and Water Pump You Need
If you pick a pre-packed fountain kit, you do not need to worry about assembling the water pump and fountain head separately. As we have already seen, fountain heads come in different varieties based on the height of the spray and the amount of water flow.
Most fountain heads will indicate the size and height of the spray and the water flow rate. Based on this information, you can determine the pump size required. To understand what kind of water pump your fountain needs, keep these things in mind:
Look at the recommended flow rate for your fountain.
The height that the water will extend up to.
Pick the pump with the proper flow rate – if the pump's water flow rate is low, go for a bigger pump.
The bigger pump is better because you can always decrease the flow rate. You can't make a weak pump work harder.
Check out our article on "The Best Aquarium Light For Beginners"
Safety precautions:
While picking out the proper fountain, one of the most important things to consider is your safety. If you don't follow the safety precautions, there is a high chance of a short circuit with fountains and their submersible pumps. The latest water pumps with fountains have an epoxy coating to prevent water from touching the live wires.
Look out for certifications such as the UL (Underwriters Laboratory), ULC (Canadian UL), CSA (Canadian Standards Association), or ETL certification. These certifications indicate that the pumps are safe to use and meet all safety standards. In addition, there are instructions on electrical safety with the pump kits. Some standard rules to follow are:
Do not let water touch the wiring.
Immediately shut the pump off if there is any water leakage.
Ensure that your pump has a running GFCI outlet which will alert you of any issues with the wiring.
Consider investing in a small-sized solar pond fountain, which will save you the hassle of worrying about the safety requirements of your pump and save your electricity costs.
Fountain Maintenance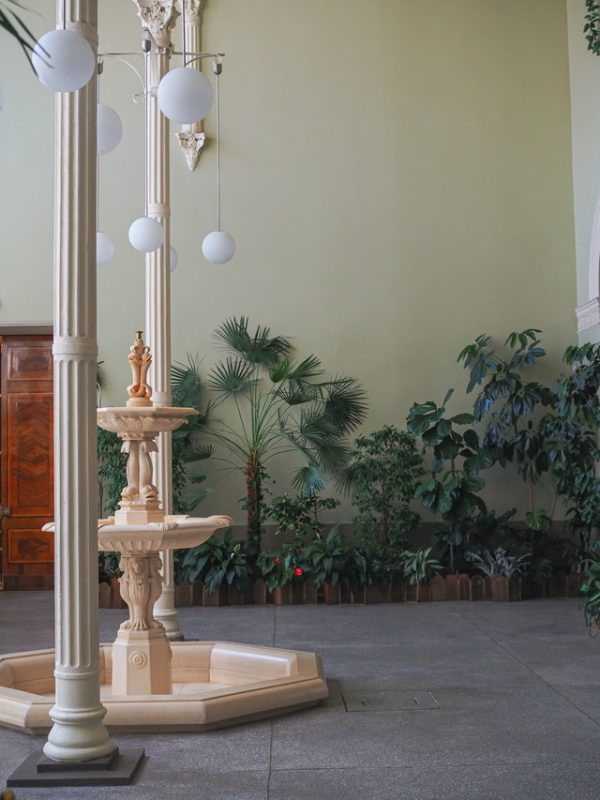 The first thing about maintaining a fountain is to keep it debris-free. The intake area of the pump is crucial for keeping the spray running.
With fountains, much dirt, animal waste, stray leaves, and algae can accumulate over time. With small-sized , such as a backyard fountain, the pump is also tiny. This can be a problem because a smaller pump gets clogged more frequently.
In addition, small pumps only have a foam pad that protects the motor from debris. Bigger fountain pumps are powerful but not necessarily designed to stop smaller debris from clogging the rotor. 
The size of your fountain does not matter regarding its cleanliness. Most fountains and pumps struggle to work during the winter due to the cold weather freezing the water. If the pump is frozen for a long time, it will crack.
As a precaution, clean your fountain heads and pumps regularly. This will extend the fountain's life and remove pumps from shallow ponds in winter.
Conclusion
If your pond size allows, choose a pond fountain with a tall spray so you can see the pattern it creates. Use our guide for the kind of pump you should pick, the fountain appearance, your pond size, and how to maintain your pond pump.
We recommend you match your fountain pump to your pond volume. 
Keep your pond clear of leaves and floating debris; your fountain pump will ensure you have a beautiful display to feast your eyes on every day.