Fountains always add a beautiful element to any space. Fountains serve as a centerpiece to plan your garden and house architecture. Most people believe that you need a big enough house or a mansion to have a fountain. With the advent of garden planning and compact innovations, having your very own fountain is not a far-flung dream anymore. The great news is that you can have your very own fountain in the backyard of your house – a Pond Fountain!
There are multiple fountains available in the markets, such as electric or fuel-powered fountains, ornamental fountains, different kinds of pumps, fountain decor, etc. This guide will help you navigate the maze of choosing the fitting Pond Fountain kit and review some popular choices to make an informed choice.
Our Best Picks for Pond Fountains:
How Does a Water Fountain Work?
Backyard fountains have little space to operate, such as pond fountains have little room to work. Therefore, their working method is different from the mammoth fountains found in the middle of avenues or extensive gardens.
But, the basics of pond fountains, or backyard fountains, are the same as the large, ornamental ones. Pond fountains easily fit into a small area. They are set up inside a barrel or a large container if there is no significant, pond-like area. The core of the fountain is a water pump, submersible in nature. The primary job of pumps is to move water. But, in the case of these fountains, the pump's job is to lift the water higher through the head and spill out like a spray of water.
The head of the fountain is like a nozzle or a hose end. In most cases, you can change the pattern, and the strength of the water spray depends on the handle. You can customize the fountain to dribble out as a mist or a sharp waterline. Some high-quality spray handles allow you to make swirly or artistic patterns. While building the spray, the perimeter of the water surface is essential. The fountain area ensures that the water sprayed falls back into its place.
The water keeps circulating in the pond. Fountains will ensure that the water surface is regularly disturbed to prevent any stagnation or accumulation of debris. This keeps the fountain water cleaner for a longer time.
This is how fountains function and pond fountains follow the same principles.
Top 6 Recommended Pond Fountain Kits Reviews
Scott Aerator is a US company focusing on fountains to maximize splash and water movement. The end goal of the Scott Aerator, as its name suggests, is to keep the water aerated. It moves with a speed of 400 gallons per hour in a fast flow. The water height can go up to 6.5 feet, and the diameter can extend up to 22 feet wide.
The material of the pump is stainless steel and oil-free. It comes equipped with a 70-foot pump and a power cable. The warranty durations are pretty good too. In addition, it is ice-proof and does not need to be unplugged in winter.
Specifications:
115-volt engine
1/2-horsepower
oil-free motor
400 gallons-per-minute flow rate
6 feet high and 22 feet wide
Electric cable – 70 feet long
12-gauge submersible
you can order electric cable in longer lengths
Light kits can be added at purchase or later
Approved for saltwater
Pros:
5-year warranty
Trustworthy company
High-quality products
Variants available
– – –
The Patriot Pond fountain creates a stunning display in pools, spas, ponds, and water gardens because of its highly customizable appearance. It is in-built with 48 LED lights. It also comes with a long water fountain spray diameter, and you can adjust it further.
The customer services are pretty good as the parent company provides them in-house support.
Specifications:
Power Source: Corded Electric
Colors – Red, Green, Blue
Material – Plastic
600 GPS
60 Watt Pump
48 LEDs — Blue, Green, Red
Adjustable Fountain Nozzle
Float Size: 13.5" x 2.5"
Pump Extends 8" Below Float
Two 30 inch Power Cords
Low Voltage Transformer
Warranty: 1-year
Pros:
Easy to install on your own
Has automatic light features, such as 48 LEDs that can change automatically
Best size for small to medium areas
Cons:
Small filter compared to its counterparts
High chances of clogging
Only a 1-year warranty
Not certified for safe electrical usage
you cannot turn off LED lights
Needs two different outlets
– – –
The Pond Boss floating fountain is a compact fountain with lights and boasts of an impressive water display. It also illuminates the fountain during the nighttime. It does that with the help of its dusk to dawn sensor. The pump comes covered in a floating platform. Since this is a kit, it comes with three different fountain heads, which you can change and customize on your own for variety.
The first head is a trumpet-styled one, the second is a single tier, and the third is a three-tier one.
It comes with a 50-inch power cord and a 150-inch mooring line. This means you can place it in a large area as well.
There are two variants available in size: a half-acre one and a ¼ acre one.
Specifications:
Power Source Type: Manual
Powerful, energy-efficient
Color – Brown
Material – Ceramic Shaft and Bearings, Plastic
2000 GPH pump
Durable, ceramic shaft & bearing construction
Aerates and decorates large ponds
Minimum operating depth – 2.5 feet
Pros:
It comes with a mooring line
Floating pump reduces clogging risks
ETL certified
3-year warranty
A dusk to dawn automated sensor
Cons:
It needs different electrical outlets to plug into.
– – –
The Custom Pro FT3500 is a beautiful ornamental fountain. It comes equipped with four different variations of the nozzle: a gusher, a skinny trumpet, and two V-shaped nozzles. The gusher spray is 18 feet tall, and the skinny trumpet displays about 12 feet tall. The V-shaped displays vary in height, depending on the diameter you choose, and one includes a small geyser.
It is easy to assemble and move around, thanks to the 100 feet long cord with the kit.
The model also has a cage-like pre-filter for added protection.
Specifications:
Power source: Corded Electric
3500 gallons per hour pump
nozzle kit for four kinds of fountain sprays: a gusher, skinny trumpet, or V shape
100-foot long electrical cord
steel filter basket
heavy-duty float
tether rope
Three other Custom Pro FT Models are also available
Pros:
Creates different fountain shapes
The height range is vast (4 to 16 feet)
Lifetime warranty on the float
Customization options are plenty
Cons:
– – –
The Viajero (2021) 4W Solar Fountain with 3000mAh Battery is a compact powerhouse. It is solar-powered and eco-friendly. The solar fountain pump will automatically shut off if there is no water or if the pump gets blocked by debris. In this way, it will not idle and damage itself. The company boasts that the model is designed so that the fountain will continue to work and spray water at a consistent flow even if three or four of the solar panels have been covered by debris.
The spray length is up to 20 inches long.
Specifications:
Power source: Charcoal, Air Powered, solar
Material – Plastic
3000mAh battery pack
Premium quality solar panels
Four different nozzles
Pros:
No electricity usage and safe to use
Solar-powered
Compact sized and is suitable for small ponds
Cons:
Only 1-year warranty
Cannot aerate pond water
It needs sunlight to operate at all times
– – –
6.
No products found.
No products found.
The Kasco VFX is our star recommendation! The Kasco Marine family has been selling pumps for over five decades and has earned the people's trust. The Kasco VFX floating fountain is unique because of its V-shaped water spray pattern. It is built keeping in mind the aeration needs of the water. The height of the water goes up to 6 feet. It is impressively made with a water deflector and pump screen. The pump screen ensures that there is no debris clogging it. They also have more extensive options available, such as their 8-feet variant.
It is so well-built that we could not find any cons for it!
Specifications:
Color – Black
Material – Corrosion-resistant design
3/4HP VFX Series decorative pond fountain
It comes with a timer control panel
GFCI protection included
Operates in as little as 17.5 in. of water
120-volt configuration
50' power cord
Two mooring lines
optional lighting packages are available
2-year limited warranty
complete packages are ETL approved to CSA and UL standards
Pros:
you can use it in small as well as large ponds
UL, CSA and CE certifications ensure safety
Trustworthy company
High-quality make
– – –
Types of Fountain Heads
Fountainheads create different spray patterns. There are different types of fountain heads that you can go in for depending on your budget and stylistic requirements.
These fountain heads vary in sound, size, design, and water stream.
There are foamy heads that turn the water into bubbles and look soapy. Some other heads create a gentle stream of water that trickles down. Some shoot water with force and make a lot of sounds. In the case of backyard fountains, plastic fountain heads are pretty popular. For instance, if you go in for a high-quality fountainhead in such a small area, you cannot contain the amount of pressure of the water from the fountainhead. Fountains used in public spaces are high-grade, commercial fountains that use high-pressure pumps. Using a similar style in your home garden will be disastrous.
Cost-wise, plastic is more durable and suitable for a backyard fountain. In addition, it is easy to maintain, clean, and replace as need be. In plastic fountain heads, you will find various pattern options too.
The only thing you have to ensure is that your fountainhead must extend outwards from the water so you can see the pattern. If it doesn't happen on its own, then you may use an extension tune and attach the fountainhead to the tube.
How to Choose The Right Size Fountain?
The products that we have reviewed here for you are all-inclusive, which come with everything that you could possibly need for your fountain set-up. But, it is best to know what you need to look out for when shopping for a Pond fountain kit.
Check the water flow range:
The water flow range is measured in GPH (Gallons per hour). The water flow range needs to be the first thing you consider before purchasing a fountain kit. If you fall short on the water flow range, your pump will get choked. On the other hand, if there is too much pressure, the water would shoot up too high and away from the range.
The size of the fountainhead matters, too. Using a high-flow head on a small-sized pump will clog the machinery with debris. The opposite would result in a dribble instead of a steady flow.
Depending on the fountain area, you will need at least a 50 gallon per hour pump.
Consider the head height:
The head height is the height to which the fountainhead sends the water spouting up. All the submersible water pumps provide the flow rate in gallons per hour, which is the unit to measure them.
Remember that the higher the fountainhead is, the more the pump needs to push the water. And the higher the pump needs to go, the harder it is for it to work. So this is the head height.
For instance, a submersible pump with a 100 gallon per hour capacity pump might only work half capacity if it has to push the water up to 1 foot above the water surface.
It is essential to check the pump specifications to get the most out of your pond fountain.
Determine the fountainhead and water pump:
If you pick a pre-packed fountain kit, you do not need to worry about assembling the water pump and fountain head separately. As we have already seen, fountain heads come in different varieties based on the height of the spray and the amount of water flow.
Most fountain heads will tell you the size and height of the spray and the water flow rate. Based on this information, you can fix the size of the pump required. To understand what kind of water pump your fountain needs, keep these things in mind:
Look at the recommended flow rate for your fountain.
The height at the water will extend up to.
Pick the pump with the proper flow rate – if the pump's water flow rate is low, go in for a bigger pump size.
Using the bigger pump size is a better option because it will keep the water in check and send back any extra water.
Safety precautions:
While picking out the proper fountain for you, one of the most important things to consider is your safety. There is a high chance of a short circuit with fountains and their submersible pumps if you don't follow the safety precautions. Lately, the water pumps that come with fountains have a coating of epoxy to prevent any water from touching the live wires.
Look out for certifications such as the UL (Underwriters Laboratory), ULC (Canadian UL), CSA (Canadian Standards Association, or ETL certification. These certifications indicate that they are safe to use and meet all safety standards. In addition, there are instructions on electrical safety with the pump kits. Some common rules to follow are as follows:
Do not let the water touch the wiring.
Immediately shut the pump off if there is any contact with the water.
Ensure that your pump has a running GFCI outlet which will alert you of any issues with the wiring.
Consider investing in a small-sized solar pond fountain, which will save you the hassle of worrying about the safety requirements of your pump and save your money on the electricity bill.
Fountain Maintenance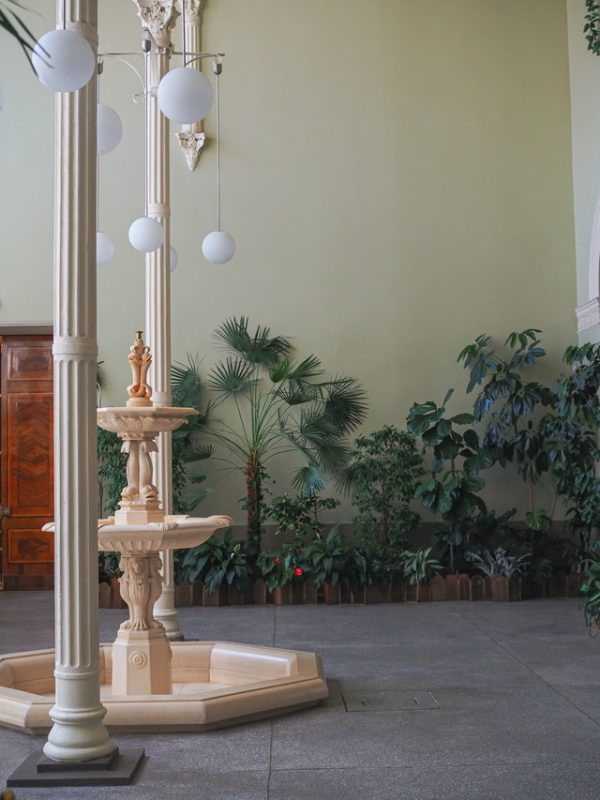 The first thing about maintaining a fountain is to keep it debris-free. The intake area of the pump is crucial when it comes to keeping the spray running.
With fountains, much dirt, animal waste, stray leaves, and algae can accumulate over time. With small-sized fountains such as a backyard fountain, the pump is also tiny. This can be a problem because a smaller pump will get clogged frequently. In addition, small pumps only have a foam pad that can accidentally let the debris in. More giant fountains are powerful but not designed to stop smaller debris from floating in.
This means that the size of your fountain does not matter when it comes to its cleanliness. Most fountains and pumps become inoperative during the winters due to the cold weather. If the pump is frozen for a long time, it will create cracks.
As a precaution, clean your fountain heads and pumps regularly. This will extend the fountain life and not let the holes be clogged.
Conclusion
Based on your needs, your best bet is to go in for a pond fountain that has a tall spray so you can see the pattern it creates beautifully. Go through the guide mentioned above as to the kind of pump you should pick, how you want the fountain to look, your use, space, and the decoration around the pond. Then, as per our recommendation, you should go in for the Kasco ¾ HP VFX floating fountain which is easy to set up and maintain. It is the perfect size for backyard settings, and error-free.
The only thing to keep in mind is to keep the water moving for proper aeration to use that water for a more extended amount of time. You have nothing to worry about once you have done that and successfully kept your fountain debris-free.