If you've owned an aquarium for any length of time, you know that keeping it clean can be incredibly challenging. Having a quality filter is an absolute must for any tank in order to keep it clean and it's up to you to know which ones are quality and which ones aren't.
The good news is, we've got you covered. You don't have to search through the myriad of options to try to figure out which ones are the best, you've come to the perfect place to find out! In this guide, we will be taking you through a complete review of top rated hob filters to try to help you find a great option.
Our aim is to narrow down the market using hob filter reviews to give you an ideal variety of choices so you can determine which hang on back filter will best meet your needs.
What is a HOB Filter?
A hob filter is otherwise known as a hang on back filters. This is the most popular type of filter out there when it comes to choosing a reliable aquarium filter. They are popular because they are easy to install and highly effective. They require very little maintenance and care and can pretty much take care of the work without a lot of effort on your part.
If you didn't guess from the title, these filters hang on the backside of your aquarium so you can still appreciate the full view of your fish and anything in your tank from the front. These filters are simple, which means they aren't overly bulky and they are versatile from tank to tank.
The best hob filter works using an intake tube that pulls water from the tank into the filter. The water processes through the filter inside the casing. It might use a sponge or another material inside there to filter. Once it has filtered, the clean water goes directly back into the tank, almost like a waterfall. This is an ongoing process with water continually going in and the clean water coming back out and mixing. This process also oxygenates the water.
Hob filters come in all different styles and sizes. You will see some top rated hob filter options that let you change the water flow if you prefer, among other things.
The Top Rated Hang on Back Filter Reviews
In this section of our guide, you will find complete top rated hang on back filters in complete review. We sorted through the options to find the very best hob filters and we are excited to share each of them with you!Let's take a look!
1. Best Overall: Aqua Clear Fish Tank Filter A620A1
The first hang on back filter review is the best overall option. This is one of the best hob filter review choices out there. It is highly rated across the board and well worth the cost for a quality option. This particular filter is made for 60 to 110 gallons of aquarium size. the filtration media is energy efficient, allowing for a better cost to operate.
This best hang on back filter comes with simplicity like the aqua clear fish tank filter. It is simple to use and easy to install. The Aqua Clear filter media requires little effort and just needs you to clean the filter occasionally. This best hob filter provides mechanical filtration, biological filtration, and chemical filtration for the full filtration process.
The amount of water this hang on aquarium filter holds is up to 7 times larger than some other fish tank filtration systems you will come across. This Aqua Clear filtration system comes with a lifetime warranty which is certainly hard to beat. It provide a means to preserve beneficial bacteria. The activated carbon goes a long way to absorb odors as well as discolorations.
Pros:
Mechanical, chemical, and biological stage filtration system
Easy to use
Clear water solution for freshwater tanks and saltwater tanks
Suitable for different sizes from 60 gallons to 110 gallons
Filtration stages are effective, including a carbon cartridge
Cons
The plastic filter system is sometimes a bit brittle and need to be handled carefully during cleaning
Occasionally the impeller cover trap in debris that you have to manually remove
Why We Like It
We love Aqua Clear backpack filters because they are simple and effective for the price tag. They are covered by a lifetime product warranty, which is always a good selling point. You can handle some high gallon tanks and water circulation is ideal for the water level.
---
2. Budget Choice: Marine Land Penguin 200 Bio Wheel Power Filter
The next choice of best hob filters is our budget pick. Just because you are on a budget doesn't mean you have to sacrifice quality. The MarineLand Penguin is perfect for a more affordable price but still provides an optimal flow rate of up to 200 gallons per hour. This is the 200 but there are other sizes of hob filters also available from 75 GPH to 350 GPH.
This power filter offers multi stage filtration that uses mechanical filtration as well as chemical and biological stage filtration media. The bio wheel design has been very popular depending on the model and the amount of water that you need to process. Your aquarium size may also make a difference on how many gallons you need. For some 100 gallons per hour may be plenty while others need 350.
The bio wheel technology means that toxins go and beneficial bacteria stays for the quality of the fish tank. All of this happens with the included media and you will be able to filter your aquarium water with ease.
You can easily upgrade to the Marineland Emperor 400 Pro pump design as well.
Pros:
MarineLand penguin power is a budget friendly filter for your aquarium
Bio wheel aquarium power filters design
Carbon filter gets rid of toxins in the cleaning process
Many people prefer these flow rates for a small aquarium or a large aquarium
Runs quietly
Cons
The bio wheels sometimes get caught up on debris
You will need to clean or replace the filter cartridge frequently
Why We Like It
The MarineLand Penguin power is perfect for any level and any tank size. The installation process is simple and the flow control is optimal. When it comes to qualifying purchases, it really doesn't get much better than that. It's a good choice for pros and beginners alike. You can easily upgrade to the Marineland Emperor 400 Pro if this isn't quite enough for your media type.
---
3. Fluval C Power Filter
The Fluval C aquarium power filters are another great option for the small aquarium small tanks and some larger aquariums as well. These have a capacity for 10 to 70 gallons of water so many people find them a good option for traditional tank size needs. The Fluval C power filter is a canister filter with a heavy filtration capacity of 264 gallons per hour.
This outdoes any quad filtration system with a program designed to provide a 5 stage filtration system that includes a filtration process of high quality biological media for clear water and an adjustable flow rate. This is ideal for saltwater tanks or fresh aquarium water as well. Next time, skip the bio falls and check out this hob tank water filter cartridge design.
The water intake tube is telescopic and the re filtration system is divine for your water quality. The hob filter cartridges system just clips on the tank and is easy to use and maintain. The filtering materials operate on 5 stages that aquarium owners everywhere seem to love for their fish tanks. The c nodes add a little something extra according to the table of contents.
Pros:
Specialty filter pad includes foam pad, polyester, carbon filters, bio screen, and c nodes.
Clean more surface area more effectively with this media type
Filtration rate of 264 gallons per water in aquarium tank up to 70 gallon tank
Fluval c4 filtration industry operates at low noise levels
Hob aquarium filters from Fluval C4 are easy to use and maintain
Cons
Could be improved with a self cleaning impeller as maintenance and cleaning of the small parts can be a challenge
This hob filters filtration media c nodes can sometimes clog up
Why We Like It
The Fluval C Power filter canister filter offers a 5-stage filtration process and an adjustable flow rate. Water filtration is reliable as one of the best hob filters on the market. It's simple operation with a water inlet pipe, media basket, and separated filter boxes for removing fish waste.
---
4. Aqueon Quiet Flow LED Pro Aquarium Power Filters
This is quite possibly the quietest hang on back filters you are going to find on the market. The name Aqueon quiet flow is the perfect description for this aquarium filter. It's comparable to the Tetra whisper as far as noise level is concerned. This is one of the best hob filters filter selections in terms of noise and effectiveness.
Aqueon does have multiple size options. This particular tank filter is a 75. It uses Aqueon specialty filter pads and operates on mechanical, chemical, and biological media from the LED Pro is a high quality solutions with hearty flow rates and improved water circulation even for larger aquariums.
This fish tank filtration system from Aqueon Quietflow uses an LED indicator light when the cartridge clogs or needs replaced or cleaned so you always know when something could be hindering the filtration process. It operates on 5-stage filtration and is easy to operate. This best hang on back aquarium filter is also covered by a lifetime warranty.
Pros:
Premium water flow rate levels
Quiet aquarium filter operation from Aqueon quietflow
Offers a 5-stage process that most canister filters don't provide
Filter media has an LED cleaning indicator so you know if the power filter has an obstacle
Bio media designed for freshwater tank and freshwater fish best
Cons
Make sure you choose the right filter for your tank so the power classes are appropriately matches to the aquarium.
Advertised as self priming but requires a specific water level to do so.
Why We Like It
We love the Aqueon powerfilter for a number of reasons. The self priming capability is nice if you have enough water but this fish tank filter is so quiet and has clear LED indications for your bio media so you know if something needs addressed.
---
5. Seachem Tidal Filter Large Aquarium Fish Tank Filter
The Seachem tidal filter system for large aquariums is a hob filter that works for up to 110 gallon tanks This particular brand also offers tidal power filters in other sizes as well. The 55 gallon option is another popular choice from this brand. There is a lot that stands out to us about this particular filter option. It is self priming in every sense of the word.
This hang back filter has a telescopic intake that allows you to make full adjustments to the length for your water capacity. You can even cover up the intake because this power filter has adjustable flow and a surface skimmer for the tank setup. It really doesn't get much better than that and very few of these have such capabilities.
It's common for fish keepers and diffuser grid canister filters to sometimes offer this water filtration solution but very few hob filter options will have the intake tube abilities as well as the surface skimmer, making this another reason to add this as a best hob filter on our list. 70 gallons and need optimal water flow? You got it right here!
Pros:
Unique skimmer and water intake tube design
LED pro capabilities that allow for versatility
Handle more than 70 gallons depending on the model
Filtration capacity is excellent and quiet
Adjustable filter through a dial on the flow knob
Cons
Make sure you understand the functions and capabilities to know your Seachem tidal is compatible with your aquarium size.
The media filter basket sometimes gets clogged
Why We Like It
Whether you just need a reliable re filtration system or you want a premium best hob filter, the Seachem Tidal delivers. From activated carbon to a skimmer and adjustable flow rate, you really can't go wrong with this hob filter power filter.
---
6. Penn Plax Aquamarine Cascade Hob Filter
The Penn Plax Cascade has both hob filters and canister filters available as a filter media solution. The Penn Plax Cascade hob filter is another of our top choices with a quad filtration system and a bio wheel, you simply can't go wrong with the Cascade hang on aquarium solution. You can choose your size, ranging from as low as 20 gallons clear up to 300 gallons.
The Penn Plax cascade hang on back filter uses an activated carbon cartridge to keep beneficial bacteria and remove toxins and waste from the water. This has a bio falls bio wheel design that keeps your tank at prime oxygenation levels with the filtration media. The filter comes out so it can be cleaned and replaced as necessary.
An adjustable flow knob gives you full control of the filtration speed so that feeding times aren't interrupted by filtration. This Penn Plax Cascade hang on aquarium hang on filter works for both freshwater and saltwater solutions. This best hang on back filtration media will allow you to make sure you have control and a clean environment for your fish without getting rid of beneficial bacteria.
Pros:
Biological filtration keeps beneficial bacteria and removes waste and toxins
Activated carbon power filter media helps reduce discoloration and odors
Multiples sizes so you can make sure you get the hob filter solution you need
Knob to control flow rate for feeding time and other needs
Optimal aquarium water filter for freshwater tank water or saltwater or even reef tanks
Cons
Larger sizes could be improved with filter floss or an LED indicator system
May struggle to reboot without some help after power outages
Why We Like It
We love that this has a solution for all water change needs and not just a few sizes. Your aquarium will be clean and concise and the flow can be adjusted from the filtration chamber to accommodate your media and water needs at any given time. This unit operates with efficiency and can work for anyone trying to solve a problem of impurities or particles in their fish world.
---
7. Tetra Whisper EX Silent Multi Stage Power Filter
The Tetra Whisper power filter has long been a trusted name for quiet operation. It brags of a cycle guard that lets the filter work seamlessly and is one of the quietest media type hob filter solutions. The Tetra Whisper is reasonably priced for the quality and you can get multiple sizes including 10-20, 20-30, 30-45, or 50-70 gallons model. This aquarium filter is truly whisper quiet and operates with a multi-stage filtration media.
You don't need extension tubes, gas exchange, spray bars, or aeration slots for every aquarium and these often lend to more extensive maintenance or cleaning requirements of your filters. Your fish just need a clean tanks environment whether you have five types or just 3 or 4 types in the unit. The features on this unit are simple and installation is very easy for setup. While you can't house a 400 gallon on a single impeller, you can use this for smaller types reliably.
Your filter will reduce ammonia just like most models and pump out the debris and bacteria that you don't want, be it saltwater or some other water combination. Oxygen and a clean home free of algae for your fish health is fully within the ability of this company.
Pros:
Aquarists can agree that this model from Tetra works to reduce particles, discoloration, ammonia, and algae growth.
Hob filters use biological filtration in a multi stage power filter media design
The flow rate is continuous and steady for oxygen
There is no priming required for this power filter as it is self priming
Multiple sizes of hob filter to choose from
Cons
Tank size is slightly limited to less than 70 gallons of aquarium water
If your water level gets too low, the filter cartridges simply stop flow and the motor disengages until resolved.
Why We Like It
We like this manufacturer solution because it works simply and gets the job done. You may have issues with the water level but if you keep the right amount in place, this shouldn't be a problem. This is protected by a lid and will do its part to sponge up ammonia, chemical, dirt, and more!
---
8. Boxtech Aquarium Hang on Filter
If you just have a small 5 or 10 gallon aquarium, then you don't need the oversized power filter hob filters. You need something smaller and suitable for the space but something still reliable to get the job done and keep your flow rate going. This solution from Boxtech just might be a good hob filter in this case.
This is a 3 in 1 filter media that filters while providing oxygen and clearing all the gross things using biological filtration. This filter is thin and reliable. It doesn't make a lot of noise to operate, which is always a plus. If you want to be able to adjust your flow rate, you can still do so as it is all adjustable.
The Boxtech hob filters uses a filter plate system in order to reduce the space it takes to work. All of the materials are safe and reliable. This is a "cheap" option that isn't cheaply made. It is plastic that is strong and durable and it simply gets the job done like you need, even on those mini tanks.
Pros:
Perfect for the smallest tanks
Silent operation hob filter
Adjustable flow rate filter media
Simple sponge with cover lid and plate
Very easy to use and takes up minimal space
Cons
The filter cartridge is small which might require more frequent maintenance, cleaning, or changing.
Why We Like It
We love this hob filter because it is small and effective for those tanks that don't fit into the range of 25-400 capacity ranges. There are many smaller tanks that still require a solution and these hob filters will provide that for you.
---
9. Aqua Tech Power Aquarium Filter
Finally, we bring you one last filtration media filter that is our last top pick to share with you. This Aqua Tech model is a power filter that uses biological filtration to clean up your tank. It's a highly rated model with a slightly limited capacity of 30-60 and not a lot of other hob filters sizes to exchange for. This operates with a waterfall system that uses 3 stage filtration.
This filter used to be a pain to take care of but it was improved for maintenance and cleaning and the improvements have been raved about. They offer two year warranties with the new design as well. The three stages use water crystal floss, carbon insert filter interior, and a biological fish keeper grid.
Not all aquariums are huge and some require different maintenance than another model or type might. It can depend on the size of your aquariums or the fish. It might also vary if you have one fish as compared to 20. This is a simple solution to take care of tap water or any other type of water through filtration while still allowing you the simplicity and effectivity of a hob filter.
Pros:
Waterfall hob filters design
Three stage approach to filtration media
Perfect for freshwater tanks that aren't oversized
No bio wheels to keep clean or maintain
Requires little maintenance or cleaning for the impeller model compared to some models
Cons
The tube is very long and you can't shorten it so it tends to tangle with debris on this model
Produces more noise than some name models on the market
Why We Like It
When you compare to others, we like this option because it has been updated in design. The cartridges are effective and there is not as much maintenance or cleaning required. It's simple and effective for tanks of the right size.
---
Buyer's Guide to Filter for Aquariums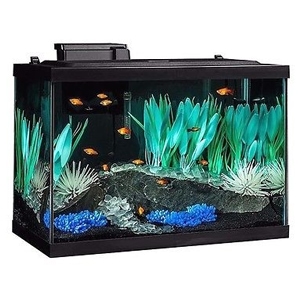 Before you make a final decision on the model that works best for your aquariums, we have a few tips and useful details that might just help you make an educated decision. We've put together a simple buyer's guide to give you some insight on what hob models should offer and what you might want to keep in mind for your use as you make a decision.
Remember that all of the models here made it this far for a reason. Not every aquariums needs are the same and what you need could greatly vary from what another owner may need. Some people have five specialty fish while others might have 50 gold fish. The use could define the model that works for you. Don't purchase just because you recognize the name but rather because you find one or two favorites that seem to work the way you need them to.
There may be a specific feature you're looking for on products or a variety of features. Whether you have a tank that needs 40, 80, 110 or more gallons, there is sure to be a suitable product here for most users in terms of sound volume, performance, technology, and the ability to clear contaminants. The brands are not always a primary piece of information but something to keep in mind.
Value for the Money
There are some high dollar product options out there. We made an effort to address multiple price ranges in this article but as a participant you should be prepared for your budget range so you can spend within your money budget.
At the same time, you want to get something that is good value for the money. Here are some specific things that your contents should offer in fact for all users.
Reliable performance
Intuitive technology
Reasonable sound volume – the quieter the better
The number of gallons the housing can handle in reasonable time
Ability to clear debris matter and impurities effectively
Instructions that are easy to follow
Truly hangs on the back wall
Easy to maintain with tubes, wheels, filters, and everything.
Filter replacement and care
Total customer experience and comment
These are just general things that are something every machine should cover in some way. They may not always be uniform in all factors but in the end, all of the steps matter in some way and the casual browser will care about these details.
There is a certain advantage to manufacturers who appeal to the overall effect of their equipment device, giving hobs their full attention for customers and delivering according to their reputation as well.
Flowing Rate
When it comes to looking at the device picks, you will see mention of flow rate on all of them. While a specific rate may not be defined, the goal is to know the functionality to maintain a flow rate or adjust it exists.
Some hobs have a fixed rate for convenience and that rate is typically simple and steady without being too heavy for feeding but reliable enough that someone doesn't have to manually clean the tank once a week.
Some choices by comparison offer a device that lets you adjust the rate on your device based on what you need at the time. You can set it at super speed or high power to get quick results or you can slow it down for feedings and not have to worry about wasting food at feedings because the impellers and tubes suck it all in right away.
The goal is to be able to complete this note without being completely manual or working about buildup as one of the drawbacks for the function.
Media Filtration Output Ratings
This particular terminology ultimately refers to the process or the idea of cleaning out impurities and imbalances from the water while still keeping proper oxygen levels on track for the creatures and species within. Some filters have limitations as to what they can clean away or how quickly they can clean away while others clean everything for beauty and forget that some good bacteria serves a purpose.
The truth is, you need a good balance. You want to be able to keep the bottom clean and not have to worry about a spot of nasty accumulation anywhere on the tank but you also want the living environment to be realistic and healthy for your fish.
Look for excellence in this department to avoid a headache later when your biomax hob or whatever filter you end up with isn't quite living up to your expectations. Remember this might not be the same for everyone and there is good bacteria that can have positive action within the tank.
PH levels, bacteria, and oxygen must be balanced. You do want to filter out waste, toxins, and impurities without a doubt but remember there are benefits to some nitrates within the water to avoid other problems.
Required Maintenance
One of the first things you might want to review is the stuff that requires extra care from you. Rocks and other items might get caught in the line and they can get lodged in bucket or baskets of the hobs, leading to a lack of air for filtration or even a full shut down of the motors on the devices.
If you're a beginner, you may think that you can set the filter and forget it. While some devices might have this advantage most of them will have a layer that requires maintenance and cleaning to keep them operational so there isn't an issue for the inhabitants in the tank later on.
The majority of the time, you filter may run seamlessly without leaks and provide the perfect oxygenation but hobbyists will agree that with any model it is always possible for a rock or some other debris to get lodged in the filter stores and cause it to shut off or become clogged.
Find out what type of routine maintenance or cleaning might be required and this could be a comment to consider among other factors to be sure you get the experience you are looking for.
No matter whether you have sponges, basket, or other methods, you will have to do some cleaning and filter changing at times to prevent breakdown of the machine and avoid trouble as time goes on.
Durability
If you're going to use a hob method to keep your spaces clean, you want to know it is going to last. While some of these forms are more affordable than others, you can bet that even the most inexpensive options need to provide durability for your aid.
Don't be afraid to check out comments from other users to get a real feel and lots of helpful information about the overall quality and durability of the hobs in question. This purchase probably isn't made lightly. You're making it to complete a task that needs handled and you need it to reliably last rather than worry about a breakdown the second day of use.
Technology Solutions
If you want all of the bells in whistles, you're in luck! We have both simple options here as well as solutions that have benefits of the most advanced technological methods on the market. Technology offers depth to your solution and can be impressive but sometimes it also costs more.
The prices often reflect the capabilities and functions of the hob filter and your purchase may make a difference when they are on the leading edge as far as the newest and latest or maybe even the first to aid in certain ways is concerned.
Technology is nothing without having the right construction to support the addition of such features so just keep that in mind.
Tank Size
Another important factor for choosing hob filters is the size of your aquarium. Obviously, you should plan to get a filter that accommodates the size of your tank and operates at a GPH that will truly work for the space.
A lot of these are designed for small to medium tanks but there are some large capabilities from some brands as well. Look at the filtration media specifics and know that it will truly accommodate your tank. If your tank is not filtered appropriately, you risk the health and safety of your fish so choose wisely and pay attention to the details in the process.
There are some larger sizes out there so just be sure that you pay attention to this detail. It is also not uncommon for people to pair multiple HOBs on a larger tank at each end in order for the filters to work their magic together.
Frequently Asked Questions
In this section, we will answer some of the most common questions that we receive or found during our research on this topic.
What is the Best Hang on Back Filter?
Our top pick is the Aquaclear system listed in our best overall spot. It has a lot of capability and genuinely works to provide a clean and safe environment.
Are HOBs any good?
HOBs are a great solution for small to medium tanks and can often work for both fresh and salt water environments. They are simple and effective without taking up a lot of excess space like some models on the market are known for.
What Do I Put in My HOB Filter?
You most likely just need to place a filter! Most systems use a specific filter or come with the necessary filters for your needs. Follow the instructions provided with the model that you select to ensure you set it up correctly.
Conclusion
When it comes to choosing a HOB filter, we've got you covered! We carefully scoured the market to come up with several suitable filter solutions and we hope that you can find something here that will suit your filtration needs.
Your fish deserve a steady and reliable environment and you deserve to not have to worry about whether or not the water is filtered and cleaned like it should be in order to provide such an environment for your fish.
Tell us about your fish setup and which filter your have your eye on, we would love to hear from you!
Expert Tip
With a HOB filter, you may need to watch your water levels to be sure that there is plenty of water for the filter to work effectively. Some filters have no limits while others require specific levels.
Did You Know?
Most reef tanks actually do not require this type of filtration. This is not always the case but if you use a reef tank, you could be off the hook for a filter as reefs have a natural effect and there are often more natural solutions that don't require a system like the hob.
Amazon Recommends:
Bestseller No. 1
Sale
Bestseller No. 2
Bestseller No. 3