Adding beautiful gravel as a substrate to your tank helps your tank become special. However, gravel needs filtration too. You can use a siphon to help clean your gravel, but chances are you'll suck up many pieces of gravel.
Using an undergravel filter to help clean and filter your gravel, removing debris and waste is much more manageable. There are several undergravel filtration systems, each with pros and cons. We've compiled a buyer's guide and found the best undergravel filters to meet your gravel filtration needs.
We Think You May Be Interested In: Under Gravel Filter – A New Approach
Before you start looking at UGFs, you need to know about the best undergravel filter systems so that you can make the rich choice for your aquarium. We've got you covered! We've scoured the market to bring you the top rated undergravel filters for aquariums and we're excited to share each of those here with you.
Keep reading to find the best undergravel filters and complete undergravel filter review details so you can get yours set up!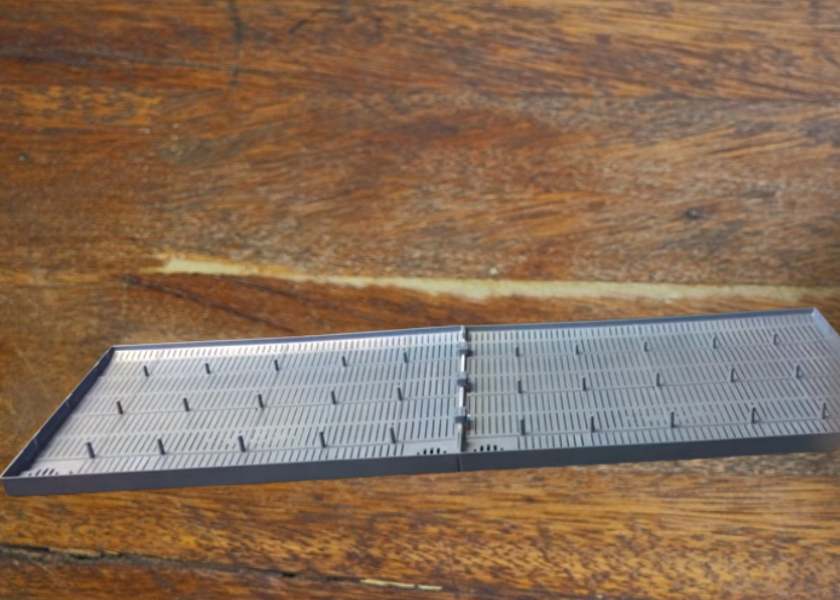 Top Rated Undergravel Filter Reviews
Let's look at the best undergravel filters on the market and analyze why they are excellent choices, their pros and cons, and what we liked about each so you have the know-how before making a purchase.
Choose one of these for your next undergravel (UG) aquarium filter!
For more information, we think you may be interested in our Aquarium Filter Guide.
Keep reading to find the best undergravel filters and complete undergravel filter review details so you can set up yours!
1. Best Overall: Aquarium Equip Ista Undergravel Filter System
our best option for substrate filtration systems. This "best undergravel filter" option uses chemical filtration or a canister filter and provides solutions for freshwater and saltwater aquariums. This particular option is appropriate for tanks that are 55 gallons.
The filtration system can filter a surface area of 45.3 x 9.6 inches, perfect for a 48-inch tank. Simply install it under your gravel substrate to clear bacteria and unwanted waste from your aquarium. It's simple to set up, perhaps one of its best qualities. The filter tubes attach to a bar tube. The set comes with filter tubes, and your UG filter will be ready for use.
Suppose you have a mechanical filtration system with activated carbon cartridges. In that case, it can be connected to and work in conjunction with the tubed design of this 55-gallon filter to keep your aquarium water clear of ammonia and bacteria, which could be harmful.
Your aquarium fish or betta fish will thank you for a clean gravel bed. The UG filter design is according to one of the original UG filter designs. For more info, click that check price button and learn a little more about this great product.
Pros:
Best undergravel filter overall
It can be used in conjunction with chemical filtration or biological filtration
UG fish tank filters include the necessary filter tubes and connections for use
Great for freshwater and saltwater tanks
Simple and easy to set up
Comes in a 50-gallon, 55-gallon, or 48-gallon fish tank size
Cons
You may need an assistant during setup to get the tubes correctly fitted.
Why We Like It
The Equip Ista undergravel filter is one of the best UG filter system options. The price is reasonable, and it's easy to set up if you have a friend to help you. It works well with just about any filter system for aquariums.
We think you may be interested in: Best Turtle Tank Filter
---
2. Budget Pick: Penn Plax Undergravel Filter
which is well worth mentioning as the best undergravel fish tank filter. With this filter, your aquarium fish tank will be clean and clear. This particular Penn Plax premium filtration system suits aquariums that are 10-20 gallons in size, depending on the tank dimensions.
You won't have to worry about adding air stones; just piece them together by adding the vertical air tubes to the platform, placing them under the gravel, and hooking it up with the activated carbon filter cartridges. The Penn Plax premium filter is also excellent for betta fish and other types of fish. The air tube is simple and won't hinder your general filtration setup.
Related: Best Filter For 10-Gallon Tank
The Penn Plax undergravel filter has a multi-level plate design, so your gravel substrate will be bacteria-free without harming the quality of the substrate. You can use these filters with mechanical filtration or a carbon cartridge filter system. Your gravel will remain clean and clear for your fish and plants.
Your aquarium setup might as well be the best it can be, right? Why not get a UG filter on a budget? Best of all, this filter isn't cheaply made. It's one of the most highly-rated filters on the market. The air tubes and filter plates are reliable and follow the original undergravel filter design.
Pros:
Penn Plax has a quality filter plate setup
Compatible with carbon cartridges and biological filtration or mechanical filtration
Made for 10-20 gallon aquarium sizes; check dimensions
Offers aeration for your tank with air stones
It fits under gravel without disrupting your gravel arrangement
Budget-friendly choice
Cons
The air stones are not the best quality from Penn Plax
You may sometimes have to vacuum (siphon) to prevent build-up on the filters to ensure the best for your fish's health
Why We Like It
We like these Penn Plax UG filters because they are affordable and effective. The filter plates work well, especially with gravel, and your aquarium water will be clear thanks to this simple gravel filter.
We Think You May Be Interested: Aquarium Gravel Cleaner: Time For A Water Change?
---
3. Best Premium UG Filter: Lee's Premium Undergravel Filter 18 Inch by 48 Inch
is the best UG filter for any tank. Lee's original undergravel filter is a premium undergravel filter option, so it does cost a bit more. However, the air pump with this set has proven an ideal solution when you need a UGF that really works.
Whether you have a canister filter, chemical filtration, air pump, or something else in your fish tanks, this premium undergravel filter is on the top-rated list of UGFs. The gravel filter is sleek and simple for any fish tank setup.
Lee's original undergravel filters may cost more, but the quality justifies the expense as you get the best cleaning power for undergravel filters. This undergravel filter works on biological filtration, and the carbon cartridges are a hit. The air pump filters water through the plate and cleans waste and debris from the aquarium.
Lee's premium undergravel filter offers optimal filtration use. Check the tank measurements, and if this UG filter's size doesn't work in your tank, other UG filter sizes are available from this brand. Buying the right size is well worth the expense.
Pros:
Sizes are available for just about any tank
Use it with a canister filter or chemical filtration in a tank
The air pump is strong and sturdy for undergravel cleaning in your tank
Works with carbon filters
Designed for 40-55 gallon tanks with other sizes available, even down to 5-gallon tanks
Cons
It might not provide the best water flow underneath the gravel
A little on the pricey side for undergravel filters
Why We Like It
Compatibility with carbon filter cartridges is nice, and to have an option that doesn't just let the gravel fall through is lovely. You can tell the air pump and filter setup are well-designed, with the undergravel filter being slim so it doesn't take up all of your fish tank's space.
We think you may be interested in: Best Canister Filter for Aquarium
---
4. XMHF Aquarium Fish Tank
undergravel filter is unique because it comes with the filter plate split into 32 pieces, and you can set it up just how you need to. Whether you have a 40-55 gallon tank or even something a bit bigger, you can make this filter work.
These filters offer you the best quality in hoses, air pumps, and UGF building supplies so you can set up your fish tank how you need it. Whether your fish tanks have chemical filtration or a canister filter, this undergravel filter can be great for an aquarium that needs something unique or for tank sizes that are hard to find.
Regarding the best undergravel filter, this tank option fits the bill because it offers alternative solutions that so many others don't have. It's another top choice among many tank creators, and it works.
Using a double mechanical-chemical filtration approach, this undergravel filter for your aquarium will make your water clearer. Hook it into a canister filter or some other tank filter if needed.
Pros:
Chemical filtration undergravel filter design
Can be set up to filter any size tank for your needs (5-50 gallon size tanks)
One of the best versatile options
Cleans water for fish and plants
It can work with a canister filter
Cons
This undergravel filter doesn't come with any instructions for setup
Limited information available for actual aquarium or tank use
Why We Like It
Whether you prefer chemical filtration or another filtration method, you need a reliable aquarium maintenance system. This undergravel filter is one of the best primarily because it allows you to adjust the layout to just about any aquarium dimensions, so you don't have to worry about finding the perfect size.
We Think You Maybe Interested In: Best HOB (Hang On Back) Filter
---
5. Imagitarium Undergravel Filter
The Imagitarium Undergravel Filter is a perfect option for another tremendously budget-friendly filter. The simplicity of design makes this a uniquely versatile UG filter. 
The Imagitarium UG filter has two interlocking plates to accommodate a 29-gallon tank. However, if you need to split it, you can use the two plates individually for smaller tanks or tanks with a vertically tall dimension.
The UG filter has two vertical filtration tubes, a non-return valve for each, and two carbon filtration pads. Replacement filter pads are easy to source as Penn Plax replacement filters fit the unit.
The grid of the filtration platform is generous, allowing food particles and waste to sift through when filtering, helping to clean the tank effectively.
Pros
Great price
Two interlocking platforms, each featuring filtration fittings for two vertical flow tubes
Compatible with Penn Plax filter replacement cartridges
Cons
The plastic of the filtration tubes is a little fragile, and if exposed to sunlight, it can quickly become brittle and break.
Why We Like It
We like that it's super easy to assemble, and the non-return valves help to keep the filter primed and preserve suction power. The easily replaced filter cartridges compatible with a leading brand's filter cartridges are also ideal.
---
6. Lee's 5-1/2 Original Undergravel Filter
Lee's make great UG filters, in addition to their other aquatic products, and they win another spot on our list with their smaller 15-inch UG filter. The hardened plastic of the filtration platform is durable, and it will last many years, adding to the quality of the overall design.
Connect the UG filter to the regular in-tank filter or a power head for individual filtration. Having this flexibility of use enables many different tank setup options.
The filtration platform has two plates, which rubber connectors can connect, or each can function individually if your tank has different sections where gravel forms the substrate.
Pros
Ideal for a 5.5-8 gallon tank
The flexibility of size due to the two plates of the platform
Flow-through setup accommodates a power head fitment
Great price
7.5 by 15 inches in size
Cons
The platform is sturdy, but the vertical air tubes are not as durable
Why We Like It
Lee's products are ideal, and this is another winner from them. This UG filter is reasonably priced, suitable for a smaller tank, and a renowned brand with good customer support backs it. 
---
7. Lee's Pet Products ALE13202 Undergravel Fishbowl Filter
Lee's makes the list again, but this time with a unique UG filter. It's round and perfect for a fishbowl. This circular plate is ideal for a round fishbowl, and the filter plate even has space to anchor underwater plants or aqua trees. It also comes with a synthetic tree and a complete cartridge for the filter. The filter platform is six inches across and ideal for a smaller tank of 2.5 gallons.
Pros
The round shape can enable different arrangements of gravel
Ideal for Betta aquariums
Great price
Works well
Cons
The filter material is not quite enough
You will have to add a low-power air pump, airline, and backflow
Why We Like It
Most UG filters are square or elongated in shape, so having a round filter platform is unique, and it's ideal for small-scale aquariums and fishbowls. However, this is not our first choice because it's missing the pump and tubes.
---
8. Penn-Plax Small World Fishbowl Under-Gravel Filter Kit 
We'd instead go with the Penn-Plax round UG filter for a complete fish bowl set. Unlike Lee's round UG filter, this filter has a mesh appearance and is less solid in structure. It comes with a filter capsule, pump, air stone, and adaptors for the hose. The rock-bottom price is inclusive of these fittings.
Pros
The segmented ring of the base plate allows you to adjust the filter in size
The airstone is high quality and quiet
The air pump is also a good quality
Fairly priced
Cons
Some air buildup beneath the plate, but adjusting the motor strength helps
Why We Like It
The overall quality is excellent and ideal for a smaller fish tank or bowl. The adjustability makes it a really versatile product.  
---
9. CORISRX Aquarium Undergravel Filteration Bottom Circular Bar
For a different approach, which is more suitable for sand substrate aquariums, the Corisrx filtration bar is a good alternative. The bar is in three sections, with connecting tubes, each slit to allow water flow and air exchange. The airstone bubbles through the tubes, aerating the substrate while removing impurities.
Pros
Affordable solution
Works with existing air pump and filtration pump
Tubes fit conveniently beneath and inside the sandy substrate bottom of your tank.
The s-pattern of the tube creates a larger surface area that can be aerated and filtered
Cons
Assembly requires some know-how
Poor assembly instructions on the product
Why We Like It
For sandy bottom tanks, this is a great alternative, and it can provide better nutrition and airflow for aquatic plants, helping root formation and improved growth.
---
10. CORISRX BEST OF YOUR LIFESTYLE Under Gravel Filter
Provide aeration and filtration in one with the Corisrx UG filter. The airstone fits inside the filtration tube while you place the filter platform under your tank gravel to ensure excellent circulation and filtration of the substrate.
The filter platform cultivates nitrobacteria, which adds biological filtration to your tank's cleaning repertoire. The size tank the filter can clean depends on the size of the filter motor, your overall tank dimensions, and the tank population.
Pros
Affordable
Works well to clear tanks when paired with the correct size motor
Good quality airstone included
Easy to assemble
Cons
Limited fitment options as it's a single platform with one tube fitment slot
Why We Like It
The filter head is quite interesting and adds extra aeration to your tank. The platform is sturdy and well-made. We Think You May Be Interested In Under Gravel Filter – A New Approach
---
Buyer's Guide
Before you decide on an undergravel filter for your aquarium, there are some things you should consider. Many variables can make a huge difference when it comes to choosing the perfect undergravel filter for your aquarium. These filters are all very different when you take a deeper look, yet they all provide the same service for your aquarium: filtering out waste that gathers in the gravel.
If you have fish, this is especially important because there are waste elements that your standard canister filters just can't remove. The undergravel filter can work with whatever filter you use, so you get cleanliness in every aquarium area.
The best undergravel filter to choose could vary from tank to tank, so be sure to keep your aquarium and your specific needs for undergravel care in mind when you select.
Whether you have a 5-gallon or 55-gallon tank, your aquarium needs the right undergravel filter system to keep the fish and plants safe.
How an Undergravel Filter Works
What is an undergravel filter, and how does it really work? Typically made from plastic mesh, tubing, or wire baskets, these simple filters are usually affordable.
The flat basket lies on the bottom of your tank, often with a slight ramp or grade. The plates or baskets have holes or slits, which are not large enough for the gravel or substrate to easily fall through. However, wastes sift through the openings. This is vacuumed beneath the filter baskets to circulate and clean the tank gravel.
The ends of the undergravel filter have vertical air tubes, which are part of the filter operation. Water is drawn up through the tubing, removing wastes and circulating through the filter to remove bacteria and debris. Since some of these undergravel filters also feature an airstone, they can also improve circulation and airflow in the tank.
Size
Before you choose an undergravel filter, ensure you know the size and dimensions of your tank. While some filter options allow you to build the undergravel basket layer to size, not all offer that capability. You want to ensure that you get a filter that will fit in your tank but won't be so small that it doesn't do the filter's job.
You should follow up on whether your filter choice has multiple plates or a single plate to determine whether it can be adjusted to meet your needs. Measure the interior area of your tank, as well as the height. Check out the dimensions of your UG filter options before you buy so that the filter you end up with won't be too large or too small for the tank.
What's Included?
While most of the filters on our list come with the hoses, plates, and filter pieces to completely assemble for operation, not all UG filters on the market do. Check what is included and determine whether you need other parts to make it compatible with your current tank setup.
You also need to remember that these UG filters are not usually a stand-alone type of tool. You will most certainly need an air pump or a traditional filter for this to work in the way it is supposed to.
Remember that you need enough suction in the overall setup, or the undergravel filter won't effectively clean debris and prevent bacteria buildup. If you have 3 inches of gravel, you need at least a 60 GPH motor on your tank filter to handle the job.
Type of Filtration
UG filters work together with your existing filter. It all depends on what your tank already has. Ultimately, it is best also to have a regular filter with chemical filtration. If you operate using only biological or mechanical filtration methods, you may need to take additional steps for an effective filtration setup.
This all depends on whether or not your tank requires chemical filtering. A UG filter is not your primary filter and is most likely secondary to an in-tank or in-line filter, so keep that in mind and understand how it will coordinate with the filter currently in use in your tank.
You may be interested in: The 5 Filter Types and Their Uses in Planted Tanks.
Frequently Asked Questions
1. Are Undergravel Filters Any Good?
Yes, they are very helpful if your tank uses gravel, sand, or some other substrate. However, the overall filtration setup will determine just how good your UG filter is. If you don't have a robust enough total filter operation, you will be disappointed with the undergravel option.
2. Are Undergravel Filters Obsolete?
Many people fail to use an undergravel filter because they simply don't realize they need one. However, they are certainly not obsolete and are necessary when gravel or rocks are in place. You can avoid using these, by siphoning your gravel bed, but UG filters make keeping your tank clean more effortless.
Additionally, UG filters are widely available and adjustable to any tank, and they are not very expensive. UG filters aren't obsolete.
3. Should I Use an Undergravel Filter for My Aquarium?
If you have gravel in a tank with fish, we highly recommend using an undergravel filter. It is the most effortless way to keep ammonia and fish waste production in check and have a truly safe environment, not just for the fish but for the plants as well.
4. What is the Best Type of Filter for an Aquarium?
It really depends on your aquarium's population. Most people would tell you that biological filtration is the best out there, but sometimes it might not be the right solution. You should do some research based explicitly on what fish you keep to understand what type of filtration you need.
Conclusion
If you're looking for the best undergravel filter, we hope you can find such a tool here. We made every effort to provide you with a variety of options so that you can find the UG filter to meet your needs on our list. Happy aquarium building!
Expert Tip
Always make sure that your traditional aquarium filter is powerful enough to handle the filtration needed but can also handle the additional requirements of the UG filter. If the motor of your current filter isn't handling the load, it won't cope when you add a UG filter to the mix.
Did You Know?
Your tank's gravel becomes polluted with ammonia, nitrite, and nitrates from waste, uneaten food, and dead plant matter. These can add up and become harmful to your fish if it isn't handled properly.
Sale
Bestseller No. 1
Bestseller No. 2
Bestseller No. 3