Setting up a pond can be a daunting task. There are just so many parts and pieces that you have to develop and plan for as you create the pond and get it set up. From liners to decorative pieces and then filling the pond or waterfall space with your choice of items.
When you set up a pond, you need the best pond pump to really help you out. Choosing from top rated pond pumps is a must to ensure you get a pump for a pond that will be reliable and will work well overall to keep your pond clean effectively.
The good news is that the best pond pump is not always expensive or huge. You can find a lot of pump for ponds that are simple and affordable and will still be a top rated pond pump to clean efficiently and thoroughly overall.
In this guide, we will share with you our top picks complete with pond pump reviews and every detail you should know to make a decision and get a pond pump for your space. You will find a variety of options and price ranges so be sure to check them all out and find what works for you!
The Top Pond Pump Review Options
In these reviews, we will share a comprehensive overview of each pond pump, letting you know just why they are listed as one of the best and sharing any downsides that you should be aware of.
Let's get started!
1. Best Overall: Tetra Pond Debris Handling Pump
This first pumps for ponds option from Tetra Pond and is one of the best overall options on the market. This Tetra Pond Debris water pump is high quality and works for all types of pond setups. This debris handling pond pump is energy efficient and can pump up to 3,000 gallons so it works for large ponds. You can also upgrade to 4,000 gallons per hour if needed as well.
This waterfall pump (or other uses) handles debris and water like a pro. It even works for a submersible pond solution. Your water feature will clean in no time if you make sure you use it properly. This can circulate large volumes of water flow as well as debris and doesn't get clogged up thanks to the pre-filter cage.
You get maximum flow rate as well as protection. Use your power cord and keep this pump running continuously 24/7 if needed. It is low maintenance and the pump itself is easy to clean as well. This pump is oil free and operates with a direct drive assembly.
Pros:
Energy efficient operation
3,000 gallons per hour
Works great as a waterfall pump or stream pump and large ponds
Uses continuous operation
Catches debris to prevent clogging
Cons
This pump is best for fresh water use only
A lot of users mention that the performance is great but they have to utilize warranty replacement more than expected
Why We Like It
External pumps that can handle debris without magnetic drive can be hard to find. These pond pumps have an optimal flow rate and are energy efficient. They handle large debris and have a 3-year warranty to cover your investment.
We think you may be interested in: Low Maintenance Fish for Beginners
2. Budget Choice: Tetra Pond Water Garden Pump
Our best pumps for pond budget pick also comes from Tetra Pond because they simply are a reliable option that can be versatile for all types of pond needs. These pumps are of high quality and highly rated across the board. This garden or water features pump has a lot of different size options so whether you need 50 gallons per hour or 1500 gallons per hour, they have an option for you with these pond pumps.
This submersible pump is a water garden pump by design. It can effectively work for waterfalls as well. It is considered to be an energy efficient pump and it is oil free in operation. It is covered by a 3-year warranty and Tetra really does stand behind their warranty. The flow rate is great for the price and you can choose what pond pumps flow will work for you.
Related Review: EcoPlus Eco 633 Submersible Pump
This magnetic drive pump is quick and efficient and you don't have to fight power cord setup to get it going. It comes with 2 different adapter sizes for your convenience as well. This pond pump is versatile for use as a submersible pond pump and can easily compete with other types of pond pumps, including external pond pumps.
Pros:
The head height is adjustable for pump water efficiency
Submersible water pump with magnetic drive
Pump comes with 2 adapters
Perfect for water garden, filters, waterfalls, and fountain heads that need submersible pumps
Best pond pumps for the money
Energy efficiency is optimal
Cons
The life doesn't seem to be great and many comment names required warranty usage but they stand by the warranty.
The higher the lift, the more challenged the water pump maybe.
Why We Like It
This waterfall submersible pond pump from Tetra Pond is designed to provide a means of a submersible water pump efficiency without breaking the bank. It's great for water features and operates with energy efficiency as well as optimal flow rates. You can choose your GPH pump needs as well.
3. Alpine Corporation Alpine Cyclone Pond Pump
This Alpine Cyclone pump is a direct drive pump that just about does it all. It is one of the best pond pumps on the market and is definitely high quality overall. Whether you're pumping pond water, a water garden, garden pond, fish ponds, koi pond, or fountain heads, this has you covered without massive energy costs.
These drive pumps from Alpine can be used as a submersible water pump or external pond pumps on a large pond or smaller ponds. The external pump and submersible pumps capability is a unique find that certainly male this type of pond pumps stand out to us.
This particular option has a maximum flow rate of 5200 GPH. The pump comes with a 33 foot power cord as well as adapters (4 adapters, including 1 1/4, 1 3/4, and multi hose fitting). This is an incredibly versatile pump that can handle the head height of your choice with a high performance impeller that even pumps out dust particles.
Pros:
Professional style pond water pump
Easy installation, use and maintenance
Can be used as an external pump or submersible pumps
Durable, oil free design
Not overly bulky even though this is made for any pond size, waterfall width, or water gardens
Cons
The Cyclone pump 3-year warranty is misleading as only 1 year applies to internal parts that are more likely to fail
No barrier bag and the cage covering the motor seems to fall off easier than it should
Why We Like It
We love that the table of contents offers variety for pond filters with appropriate cord length and pumping height without overtaking your power consumption. The Alpine Cyclone pump is one of the best pond pumps with easy installation and versatility all in one bundle.
4. Aqua Pulse Hybrid Drive Submersible Pump
The Aqua Pulse Hybrid drive is a pretty cool pump option. This particular selection is a 1,600 GPH model but they have several other capabilities from this model that range from as low as 550 and as high as 12,500 so you can choose the best pond pumps for your needs. This hybrid model is both a direct drive pump and magnetic drive all rolled into one.
The pump is made to be powerful and versatile and is manufactured to cover 24 hours of continuous use as needed. This does not have various adaptions for the outlet threads like some that offer 1/2 or 1/4. This one is straightforward at 1.5 flat.
The pre filter works very well and you get optimal flow rates with an oil free and fish safe design so you can use this for your koi pond or other fish ponds. Oxygen levels won't be affected by nasty side effects. Maintenance is simple and the pump can work vertically or horizontally to give you some added versatility.
Pros:
Choose your maximum flow rate for your filter system needs
Great for water fountain, water gardens, large ponds, and more
Designed for 24-hour continuous use
Intake screen allows large debris without clogging or build up
Dual discharge design with a cord length of 30 feet
Cons
Covered by a 2-year warranty but some customers have had troubles having the warranty honored through the email address
You may need to add a barrier bag if you have fish or live animals in the water
Why We Like It
You can hardly beat a powerful pump that gives you options. The pumping height is ideal and these hybrid drive pumps get you maximum flow rate with a pre filter that needs no ceramic shaft to deliver ideal water flow rates. Pond owners love the water volume and the pump capacity compared to operating costs.
5. Little Giant WGP-65 Dual Discharge Waterfall Pump
Check out the Little Giant WGP dual discharge pump if you want an ideal solution for a waterfall. You can use this in pond water if you want but it was ultimately manufactured to provide you with a fountain pump for water gardening products like waterfalls and streams.
Since the focus isn't a multi gallon pond, the pump impeller ideally handles water circulation in an energy saving design. Flow control operates with cost effectiveness in mind. You don't need a filter bag, just a power outlet nearby.
This Little Giant WGP pump comes with everything you need. The power output cord is a bit shorter most pump ideal cords but it works. You also get a 1 1/4 adaptor and elbow as well as a discharge cap. The horsepower is 1/8 and you get a dual discharge design that can handle two separate water features with an overload switch for safety.
Pros:
Operating cost is minimal with maximum flow rate efficiency
Handle a waterfall pump and water feature simultaneously with dual discharge
Optimal water flow power even though these fountain pumps use less electricity
Handles 1200 – 1900 GPH with no oil and little maintenance work required
Installation is simple for most people with provided fittings and seals
Cons
The overall size of this kind of filtration is larger than most expected for the item place.
Research indicates that there could be a problem with quality over time as far as water flow filtration is concerned.
Why We Like It
The fact that this Little Giant WGP name brand can handle dual setups and solids is a nice plus. It can be a part of your home pond and run at 1900 GPH. The product is heavy duty and a good value for the price if you need something with dual capabilities and large volume means.
6. Aquascape 91017 Aqua Surge 2000 Water Pump
Talk about premium quality and this manufacturer delivers. In any case, the Aquascape Aqua surge pump operates at a minimum of 2000 gallons and you can go as high as 4000 or 5000 if you need to! If you need one good reason to check out this technology, just look at the flow power and features of performance and you could be impressed.
This is a skimmer and pondless waterfall pump so it is not really designed for water garden ponds or to replace utility pumps. Pond life and pond volume could affect the use but waterfalls are the primary responsibility of this submersible pump is continuous use for waterfalls and water feature rather than external pond pumps. Make sure you understand the capabilities before you decide.
These types of pond pumps are simple but have an advantage of power. They are compact to effectively handle waterfalls without being an eyesore. This has a stainless steel impeller rotor assembly and works well with pond skimmers. It offers built in power, multiple fittings and accessories as well as speed controller efficiency.
Pros:
Uses an asynchronous motor for more power and efficiency
Ceramic shaft to prevent overheating
Stainless steel rotor assembly to prevent corrosion
Built in cord protection
Compact size water pumps with plenty of service life and power
Cons
As a rule of thumb, this is best used for waterfalls or static water movement features
For some ponds, you may find that you need a more powerful motor to be fully effective
Why We Like It
We love that you have pumps that are specific to the flow and filter features of waterfalls without worrying about the water surface or the elements within the water as much. This is perfect for your fountain or waterfall with a hearty performance from all of the models.
7. Fish Mate 1900 Pond Pump
The Fish Mate 1900 pond pump is a submersible pump with all of the benefits of external pumps without the maintenance hassles. This has a case that prevents clogs and can handle solid that are up to 1/4 inch thanks to the intake guard. This makes another great waterfall pump but it can work with other water feature needs as well.
This is no desktop fountain and the comment name indicates that it is compatible with four different fountains. It operates with low costs and can manage varying head heights in a submersible waterfall fashion. It features a lot of power and a filter that lets large debris be handled as well as solids.
This fountain pump has technology and performance but it does not come with the tubing for these models. The maximum flow example provided is up to 18,500 GPH, which makes this a great participant for the cost. You don't need tools to install but you will need your own coils and any additional filter needs.
Pros:
Can stop solids without a matter of clogs
Handles three to four fountains
Premium performance motor for heavy GPH water flow at any fountain height
Quality submersible pond pump with simple features
These pumps are affordable to operate
Cons
Doesn't come with adapters or accessories like tubing
Produces more noise while cleaning than some product comparisons
Why We Like It
You can check out any amount of product options and find that the technology differs on each one. This one has a submersible design and works really well for fountains and waterfalls need with a heavy GPH technology and simple approach.
8. Vivosun Submersible Pump, Ultra Quiet Fountain Pump
For our final solution, we wanted to give you a number that has a slightly different design and price but still relates a product means to get that cleaning done. Vivosun Submersible Pump is a quality fountain pump product has a lower price and is made for smaller uses up to 800 GPH. It can be great for fountains, aquariums, statuary, or even hydroponics. You might also find that it can work well for small ponds or a fish tank even.
This is ideal for a small fountain or waterfall structure that doesn't need constant filtration power. These models come with a short 5-foot power cord and can handle 800 GPH so it's great for that small type flow solution, like a fish tank or a fountain.
This is a submersible pump and it comes with two to three different flow options so you can set it up how you need. It's compact in size so it won't stick out as some models do. This has a maximum height of 10 feet with a powerful motor for the size to give you a speed controller and flow. This submersible pump pond pump or waterfall pump even has suction cups that attach so it can be stable in your water feature both horizontally and vertically.
Pros:
Compact size pond pumps in a submersible pump design
Maximum water flow rate for water features, waterfall, ponds, fish tank, and more
800 GPH motor with an oil free direct drive design
Energy efficient pond pumps
Can be installed very easily at horizontal or vertical stabilizations
Cons
Advertised for high lifts but handles low lifts the best
This submersible pump has a good flow rate but is limited for size handling so make sure you have a small setup
Why We Like It
We love these pumps because they provide a small and compact solution that still has a motor with the power to handle a decent GPH turnaround. It is submersible and can be used to filter your waterfall or fish tank or even small ponds. It is not made for large pond use.
Related Review: Is it a Good Idea to Get a Cheap Fish Tank?
Buyer's Guide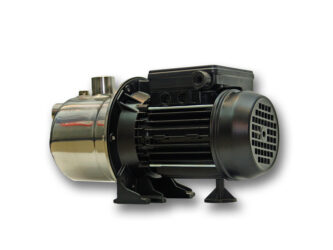 Now that we have shared some of our favorite pond pump solutions, we have a few tips that you might want to consider before you buy. Whether you have a waterfall, large pond, fish tank, or another type of water feature there should be something here that will work for you!
There are several recommendations that could be useful when it comes to the best options for your pond pump needs so browse through our buyer's guide to be fully informed of the best traits before you buy your new pond pump.
Choose the Right Type of Pump
There is more than one type of pump out there and the best one for you might not be the same as the best one for another pump user. Keep in mind that there is a multitude of different ponds and features with varying levels of maintenance, energy, and filter needs.
The first thing to know is to understand the differences in the choice between two pond pump types specifically.
Submersible Pump
A submersible pump can be hidden within your waterfall or ponds so it doesn't show to everyone that walks by. This is totally a matter of choice but it's something to keep in mind. Sometimes maintenance features for a submersible pump can be challenging so look at those details with the pump of your choice in mind. A submersible tends to operate with less noise and even might use less energy for operation.
External Pump
The other type of the two pumps is an external pump. This type is easier to maintain and typically has a longer life span but the energy consumption and the noise tend to be higher. On the same note, sometimes these do a great job skimming the top and not as great at the bottom, which will eventually cause buildup. Obviously, this type of pump is more noticeable and not as easy to hide away for aesthetic appeal.
Power Makes a Difference
Another important topic is the motor power and the power of suction overall. Any pump can promise that it is energy efficient but you should know this is typically dependent on the power being used from the motor. You will want to understand the levels that are used when the filter pumps are at maximum flow to truly understand the efficiency and the capability.
Rate of Water Flow
GPH or the gallons processed each hour is another important element. What you need here will be directly related to the size of your large pond or waterfall or whatever dimensions might be for the item you need a pump for. Know how many gallons your posts have from top to bottom.
To choose your flow rate, research indicates that you should shoot for something that will run the full depth of gallons at least two times in one hour's time. This is to prevent a problem from particles that can lead to algae and other content that might give you problems with bacteria or other materials.
The systems capacity is very important as the specifications might determine how well the pond pump works for the construction that you have in place. Wildlife, aquarium bacteria, plan life, and more sometimes need specific materials to prevent problems to their health as well.
Durability
Some of the content we see the most when it comes to the pump package is durability. It seems like the materials are not always perfect for just anything and the construction is not always reliable in some cases.
Check for a warranty on your systems as you may find yourself needing to cash in on that package down the road. You are adjusting your bills and money from hard job work to purchase whatever configuration you need so the reliability needs to deliver in all of the categories.
Reasons You May Need a Pond Pump
Some people don't realize that the advice to use a pond pump really comes from an educated line of thinking. These recommendations stem from seeing what the pumps can do and how they can help any water sight and situation.
The challenge you might fight the most if you refuse to use a pump would be stagnation. Since the water isn't moving or filtering, it might only stay good for a few days at a time. This reduces the oxygen ability and increases the waste anywhere within the pond. It will affect appearance as well as water quality and quite possibly create an unsafe environment for anything in the water.
Pumps provide balance within your setup so that the oxygen is maintained and bacteria is reduced for the wildlife within in order for your plant life and any other inhabitants to stay healthy. This will apply to the plant line but also things like koi and fish as well.
On the other hand, your water circulation will also remove debris and algae to keep the space clean for the look appeal and safety, so add that to your list of information. The cleaning works from bottom to top and everywhere in between!
Finally, this is an essential part of operating waterfall and fountains as these purchases require piping and circulation to even function.
Benefits of Using a Pond Pump
Now, you know the logistics of why you might need one or five of these but let's talk about the overall benefits of what they really do for you and your pond overall.
Avoid Odors
Have you ever been around stagnant water and battled things like mosquitoes or gnats and awful smells? That is because that particular water feature doesn't have proper circulation or filtration operating – like a pond pump.
It starts to build up debris and unwanted algae or plant growth and it develops a smell that can easily be overpowering. There is no aeration taking place to prevent it and it can smell like stinky fish even when there are no fish! This is because oxygen conditions lead to a building of hydrogen sulfide that mixes with carbon dioxide and the water start to stink with lack of filter activity.
A pond pump can easily solve this and is a much better approach to filter your water and avoid these smells happening.
Water Quality
A pond pump improves your water quality. The pump is designed for cleaning and circulation so it serves more than one purpose. This saves you from having to clean it every 1 or 2 days because the pump will filter and clean for you.
Using a pump can help reduce things like sand and other sediment and dirt that tend to settle at the bottom and can be hard to clean out. Avoid nasty gasses by using pumps to keep the water quality at its very best with your pond pump.
Fight Algae
If you've ever had a large pond or some other type of water application, you know that keeping algae and other growth at bay can be a struggle. With a pond pump in place, this is less likely to occur. Algae typically grows in stagnant water so a filter device pond pump will circulate the water and prevent or at least reduce the growth of algae in the water.
Algae growth often comes from sunshine and bacteria so using a pond pump will help to keep your pH in balance and reduce this problem that sometimes leads to additional issues you simply don't want to fight with.
Frequently Asked Questions
Is an External or Submersible Pond Pump Better?
Both of these can be great depending on what your pond setup looks like. A submersible pump is typically more visually appealing but it can be hard to maintain while an external pump can have extra noise and stick out visually.
Are Pumps Safe for Fish?
This can vary from pump to pump so be sure to pay attention to the specs and details of various products to know for sure whether it is safe for fish. Some pumps are while others are not.
Do Pond Pumps Use a Lot of Electricity?
They certainly can but technology has improved most of them. There are energy efficient models if you are conscious of using the proper wattage for the flow. In most cases, you probably won't spend more than 20 cents of money a day on energy costs on these products.
Do I have to Run My Pump Constantly?
For the best looking water, a 24/7 pump does offer the best amount of filtrations for your money. We recommend this style for most needs but there is often a price. Be sure to check out the reviews and details of the products to know whether they can be operated constantly in this manner.
Conclusion
We've given you every reason to go ahead and take that leap for a reliable pond pump to use in your setup. We hope that you will find something here in our ranks to meet your needs, no matter what price or power you need. There is more than one way to make this technology work for you.
Check out the specifications and choose carefully based on durability and what your pond space requires from you.
Expert Tip
Understand the benefit in comparison to the expenses and use these considerations to make a choice. remember that expectations and labels really can only do so much and you have to choose the answer for your setup to really get a winner.
Did You Know?
When a pump promises energy efficiency, this is based off of using the appropriate wattage for the flow and you will need seamless installations with all components accounted for to really meet these demands.
Amazon Recommends: