Using a top-rated turtle tank filter for your turtle is vital to its growth and development. Any pet you care for deserves the best, and turtles do too. 
Which turtle tank filter is the best? With so many turtle tank filter reviews out there, it's tough to find the best tank filter for turtles.
Luckily, I've found the best options for you to consider. Learn all about the best turtle tank filters, their features, and which is suitable for your unique tank setup.
View The Best Turtle Tank Filters Below
1. Best Value: Penn Plax Aquarium Cascade Canister Filter
Penn Plax Aquarium Cascade Canister Filter is a bit up there in terms of price, but it really does give you the best value for your money.
It made it on our list as the best filter for a turtle tank because of its durable and sturdy construction and versatility. It's a great tank filter for turtle species that thrive in fresh or saltwater. The filter is an excellent option for larger tanks, up to 150-gallon turtle tank options.
The flow valves in this turtle tank filter can rotate, making it a better fit for tight spaces. Simply prime the filter with the push of a button, and the maintenance of the Penn Plax Aquarium Cascade Canister Filter is effortless. Each component is removable for easy cleaning.
Pros:
Rotating flow valves
Great for large tanks up to 150 gallons
Easy maintenance
Push-button primer
Large media baskets
Why We Like It
It's pricier, but it gets the job done. The convenience of the design, such as the push-button primer and the easy maintenance, is why we have chosen this turtle tank filter as the top choice.
---
2. Best Budget: Tetra Decorative ReptoFilter
making it the best budget filter for turtle tank setups and the prettiest. It has a very decorative design that looks like a pile of natural rocks and uses a waterfall mechanism to keep the tank clean.
The waterfall is actually a 3-stage filtration technology Tetra uses that can also remove odors. Turtles can smell, but with the Tetra Decorative ReptoFilter, your little critters won't have pungent odors.
Not only is this decorative filter a nice fixture in your turtle habitat, but this best filter for turtle tanks can also double as a basking platform if you don't already have one.
Turtles need a basking platform when they aren't in the water to laze around and soak up the sun, which is provided by a heating lamp in domestic tanks.
Pros:
3-stage filtration
Beautiful design
Doubles as a basking platform
Great for shallow habitats
Waterfall feature
Why We Like It
Buying a turtle tank filter that can double as a basking filter is the best choice for versatility. Not only does the ReptoFilter have advanced technologies for filtering, but it also makes for a beautiful decorative fixture in the tank.
---
3. FRIRODSAY Aquarium Filter Fish Tank Filter for Turtle Tanks
Ideally designed for a terrarium or shallow fish tank, the FRIRODSAY Aquarium Filter Fish Tank Filter for Turtle Tanks is neatly put together. It offers multiple attachment methods, and you can choose between suction cups beneath the unit or hooks to attach them to the side of your tank. Choose from a black or a white colored filter to suit your aquarium's aesthetics. 
At a great price point, this filter is affordable, and the refill cartridges are super affordable, too (and available in bulk quantities for further savings).
The filter offers chemical and biological filtration, and the cartridges will take care of some mechanical filtration, too, so it's ideal for amphibian and reptilian tanks, which will keep your turtles happy.
As a bonus, satisfied users of the filter report that it's unusually quiet, which is a great benefit to keep you and your turtles happy and peaceful.
Pros:
Requires a low water line of less than an inch
In-tank filter is less noisy
Cleaner because of no splash over the sides of tank
The 3.5 watt pump is surprisingly powerful for effective cleaning
Large cartridge slot for additional filtration materials
Why We Like It
We especially like that the filter can be customized by adding additional filtration materials, which is great for meeting a diverse aqua-system's needs.
---
4. Penn-Plax Cascade 600 Submersible Aquarium Filter
The next filter option on our list is also another Penn-Plax Cascade. This one is also a fully submersible turtle tank filter that gets right into the nitty gritty to clean the tank water.
The efficient filter can pump out 175 gallons of clean and clear water every hour, more than many other turtle tanks with filters can say.
The Penn-Plax Cascade 600 is the perfect filtering option for up to a 50-gallon turtle tank. Another unique feature this in-tank turtle filter provides is the adequate aeration of your turtle habitat.
The spray bar can ensure the water output is even, and the Penn-Plax filter can be placed horizontally to save space.
Pros:
High performance
Provides aeration
Can be submerged
Place horizontally to save space
Two filter media chambers
Why We Like It
Although it's for a smaller tank, the Penn-Plax Cascade 600 is a highly efficient and powerful fully submersible filter for its size. It can pump out 175 gallons of clean water per hour!
---
5. Zilla Internal Filter for Aquatic Reptiles
The Zilla Internal Filter is an elementary filter meant for terrariums. If you have a smaller turtle tank, anywhere from a 20-40 gallon size tank, then this is the one for you. Although small, it's a good and hard worker and pulls double shifts to keep your tank clean. This small filter for turtle tanks is very easy to install, and the filtration process targets odor, waste, and debris.
Turtles are pretty small when they first come home with you, and what many people don't realize is that a filter for aquariums can pose a threat to your little critters. The Zilla internal filter has a safety grate to ensure your new turtles don't get sucked in.
Pros:
Best filter for turtle tanks smaller than 50 gallons
Efficient
Safe for your turtle
Quick and easy installation
Easy to clean
Why We Like It
We love the simplicity of the design. Many turtle tank filters can be complicated to set up, but this one from Zilla is simple to install and easy to clean.
---
6. UPETTOOLS Turtle Filter Internal Filter for Reptiles Tank
If you're not interested in a whisper quiet filter, but would like a reptile or turtle filter that's easy to clean and sounds like the rain, then the UPETTOOLS Turtle Filter Internal Filter for Reptiles Tank is for you. 
This filter is very elementary in its functionality, but it's super easy to install, clean, and operate. The motor is quite strong at 15 watts, compared to other filters. Despite being less multi-filtration geared than other filters, this filter can handle fresh or saltwater, and it effectively attaches with suction cups to the tank bottom.
Pros:
Operates with low water level of 1.2 inches (one of the lowest on the market)
Outlet turns 360 degrees for wave, waterfall, and rain features
Use the showerhead to drain the tank
Easy to clean filter sponge with soap and water
Add filter media to sponge chamber as needed
Why We Like It
We love the way the filter canister can be expanded on with the larger models, and that you can add additional filter media while still maintaining an easy to clean filter system.
---
7. LONDAFISH Turtle Filter
one of the best turtle filters for aquariums requiring filtration and circulation. The flow rate is quick but quiet, and the motor can be submerged underwater to create a soundless operation. Not only is this filter easy to use, but it's also a good fit for fish tanks, terrariums, and even swamp-like environments. You can customize the waterfall-type design with rock decorations to hide the filter.
Installing this best filter is simple, with a hanging hook and suction cups to ensure security. Be advised that the Londafish Turtle Filter is more suitable for smaller tanks. Turtles require much more filtration than fish tanks, and these aquarium filters will do a better job for a small habitat.
Pros:
Can be partly submerged
Waterfall design
Great for circulation and cleaning
Very versatile
Easy to install
Why We Like It
The LondaFish turtle filter works in different environments and with salt or freshwater. The filter can support and clean the habitats of any aquatic creature.
---
8. Best for Large Turtle Aquariums: SKmeavritn Turtle Filter Internal Filter
We simply love the look of the SKmeavritn Turtle Filter Internal Filter tower that stacks different compartments containing the various filtration media. It's stylish, and while it's a large filter tower, this internal filter allows for greater flexibility in what material you use for your filtration process. 
The filter requires a little over an inch of water to run, and it can be loaded with a sponge, ceramic rings, biological balls, and energy balls to clarify and clean your turtle tank. Enjoy low noise output while the filter is running, and the two sets of suckers secure the filter to two sides of the tank to reduce vibration noise.
Pros
8 watt motor for efficient circulation
Four tier filter boxes for diverse filter media
Effective cleaning
Low noise levels
Additional filter boxes available
Why We Like It
The anti-slip rubber bottom is a nice touch for securing the taller filter column so the filter can easily clean large volumes of water without slipping or falling over.
---
9. Best Protection for Small Turtles Filter: K1-Store Turtle Filter Aquarium Filter
The K1-Store Turtle Filter Aquarium Filter has a unique approach to a tank with small turtles or fish as the intake valve can accommodate a sponge, which prevents these smaller tank dwellers from being sucked into the filter. 
The filter itself is pleasing to look at, but it can easily be concealed behind some tank decorations or plants. With a clear waterfall outlet, the filter is also easy to clean. Simply unplug the filter, then flip open the top hatch (which is clear so you can keep an eye on the filters to see when it needs changing), pull out a filter cartridge, and slide in a new one or wash the old one before using again.
Run the filter in as little as 1.9 inches of water, which allows for many different use options, depending on your aquarium's setup.
Pros
Very easy-to-clean filter cartridge
Pleasing to look at
Quick assembly for suitability for large or small turtles
Quiet when running
Mount with suction cups and side hook
Why We Like It
This filter's unique safety mechanism of covering the intake with a sponge instead of the usual wire or mesh basket cover that other filters have is ideal for those who are starting out with small turtles, breeding turtles, or keep turtles and other aquatic pets.
---
10. Best Combination Filter: Kulife FUMAK Aquarium Filter Fish Tank Filters Turtle Filter
For a slightly deeper turtle tank, you can opt for the Kulife FUMAK Aquarium Filter Fish Tank Filters Turtle Filter. The filter contains different filtration chambers where you load various filtration materials such as activated carbon, sponge, and bio balls to cultivate helpful nitrobacteria. 
With this filter, you can offer your turtles a clean environment, effectively clean and maintain the ecosystem, and aerate the water too. Create a rainfall effect with the unique outlet options or opt for the traditional waterfall effect if your tank water is deep enough (12 inches).
Pros
Complete 3-stage filtration process
Chemical, mechanical, and biological filtration
Place filter horizontally in turtle tanks, fully submerging the filter
Great for large tanks
Circulates 200 gallons per hour
Why We Like It
We love the Kulife Fumak filter because it's an effective submersible filter. While it means you need to keep it fully covered with water, it filters effectively, and it's a popular choice with aquarists. This filter is ideal for large turtle tanks that have areas with deeper water.
---
Best Turtle Tank Filter Buying Guide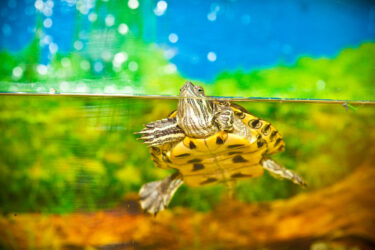 What should you look for when purchasing filters for turtle tanks? Fish tank filters can work for turtle tanks, but filters intended for your amphibious critters are still best.
Penn Plax makes excellent filters, but other than this brand, what type of filter is best for your tank? What about flow rate and size? We aim to answer these questions in our turtle tank filter buying guide.
Size
A filter undertakes a pretty sizable task to keep your tank clean. For this reason, you should look for a powerful filter. But do powerful filters always come in larger sizes?
It's true that bigger means more powerful in most cases, but large filtration systems may not be the best fit for your tank size. Tank size is important when considering how big your filter will be.
Turtle aquarium filters will always tell you the recommended size of the tank.
For example, if the filter describes tanks of 100 gallons or more being the best fit, then don't use that filter on tanks of a smaller 50 gallons as the flow rate and the motor will be much too powerful. The suction could pose a danger to your turtles, especially smaller ones.
Frequently, there will be a size range the filter is most suitable for. Look for a filter that's the appropriate size for your turtle tank.
Turtles produce more waste than fish, so look for one capable of adequate filtration for the best results. The water in the tank needs to be kept clean, and with an underperforming filter, it will be a waste of money. A sufficient filter is necessary if you have more than one turtle or an entire habitat of fish, crustaceans, and turtles.
Another idea when purchasing a filter is to decide if one or two is best for you. Two is, of course, more powerful than just one, and you can have one running while maintaining the other one. Having two guarantees a plan B when your canister filter breaks down, and you can't immediately go out and purchase another one.
Purpose
In this section, we will answer whether or not you need a filter for a turtle tank specifically or if filters for fish tanks can do the job. The short answer is: you can use either one!
The only caution is you need to find a powerful filter. The best filter for a turtle tank is, of course, made just for turtles. However, fish tank filters are much more common than ones just for turtles, but because turtles create more waste, fish tank filters may not be powerful enough.
Solve this issue by ensuring the fish tank filter you get can power a larger fish tank than your turtle habitat. This way, the flow rate and power of the best turtle tank filters will be sufficient.
Flow Rate (Gallons per Hour/GPH)
The flow rate, gallons per hour or GPH, is the equivalent of the power. The flow rate is measured by how many gallons of water the turtle tank filters can clean in an hour. A higher flow rate means more power and a cleaner tank.
Maintenance and Cleaning
While the filter cleans your turtle habitat, it's your job to clean the canister filters. The gunk, bacteria, germs, and debris get trapped inside the filter, so regularly washing your filter is necessary.
You do not want a filter that takes a long time to clean or is challenging to clean. Ensure the filter you choose for your turtle is easily taken apart and reassembled again with minimal effort.
Do maintenance at least weekly or biweekly. Turtles produce so much waste that your turtle tank filters can block up, and you'll have your work cut out to clean them. Just clean the sponges, canisters, and grates in your filters until there is no more dirt and gunk – it's that easy!
An excellent way to gauge whether it's time to clean the turtle tank and perform water changes is to look at the water flow. If you notice your filter has become less powerful over time, it's a good indication that it's time to clean it.
When you think about replacing the sponges or filters, don't remove them and put in new ones simultaneously. Do it gradually to prolong the sponges and canisters' life and make it easier on your budget.
Setup
Is the turtle tank filter easy to set up? The setup has more to do with the placement and security of the filter rather than the assembly.
Many turtle tank filters have a filtration system with suction cups or hanging hooks to keep them in place. If you have a hanging filtration system, keep it to a more unpopulated side of the tank or in the corner.
Double-check to see how secure the filtration device is, as you don't want your filters for turtle tanks to slip into the water during the night, especially if your filtration system isn't submersible. This last point brings us to the next section of our turtle tank filter review.
Is it Submersible?
Some turtle tank filters are fully submersible, while others are only partial. You also get filters that are not water submersible. Whether or not the turtle tank filter is submersible depends on the type, but more on that later.
One thing is for sure; a submersible turtle tank filter is usually more efficient as it has the best access to the soiled water. It can quickly suction the contaminated water via the intake and pump it out again through the outlet, usually as a waterfall.
A submersible or even partially submersible filter is usually more durable since you won't have to worry about splash damage.
If the motor fits into the part of the submerged filter, then the running of the turtle tank filter will be much quieter than other canister filters. For this reason, we recommend submersible or at least partially submersible filters.
Filter Type
There are two main types of canister filters – internal and external. As the name suggests, internal filters fit inside the tank, so many submersible options are internal filters. The other option is external filters hung outside the tank.
Besides the submersible possibility of an internal filter, it also creates a more compact setup for your tank. However, the benefit of an external filter type is the efficiency it affords you and your turtles.
Do not go for under-gravel filters. These require gravel to work, but gravel is often mistaken for food by your turtles. These creatures also like to spend their time digging and burrowing in substrates, but if you choose to have under-gravel filters, they may kick and push the gravel into the filter and clog it up in no time. As a result, the filter will break down quickly.
Spray Bar Aeration
Aeration is vital for your turtle habitat for environmental maintenance. Your turtle tank will blossom with healthy microbes and improve circulation with proper aeration. The best feature for aeration is a spray bar. A spray bar will also ensure the water distribution is even throughout the tank.
Achieve another type of aeration through a waterfall design. Not only is this great for the circulation of the turtle tank, but it's also a stunning design where the filters can resemble natural waterfalls.
Filtration System/Filtration Media (Mechanical, Biological, and Chemical)
The filtration media comprises three main parts: mechanical, biological, and chemical. There are also filtration systems with two or all three types of filtration for a thorough cleaning job. Let's take a closer look at the breakdown of each type of filter media.
Mechanical Filtration
Mechanical filtration focuses on all the debris in the water that you can see. This mechanical filtration can sort out your turtles' leftover food particles, dirt, and waste. As mentioned, turtles are messy and can produce more waste than fish. With excess organic waste, mechanical filtration is vital in a turtle tank filter.
Mechanical filtration in a tank will keep the water clear and prevent it from getting muddy. You can find a mechanical filtration filter to suit any size tank.
Biological Filtration
The next type of filter for your turtle tank is biological filtration, which usually requires a sponge that houses good bacteria. Biological filtration utilizes the traits of these good bacteria to feed on other biological materials you do not want to build up in your tank. This type of filter will keep the tank clean on a biological level, which will also prevent disease in your turtles.
Chemical Filtration
Other than biological and mechanical filtration, there is one other type that is needed for the best care, and that is chemical filtration. Chemical filtration uses activated carbon pads in most cases to filter your aquarium on a chemical level.
Chemical filtration isn't as essential as biological and mechanical filtration and is a supplemental form of filtration.
The best filters will have all three, but the ones that only offer two should definitely be biological and mechanical. Cascade canister filters will often have two or more filtration types, and with higher-grade filters that can offer all three, your water conditions will improve greatly.
Motor Type
The motor is the heart of your filter, so it must be strong to complete all the tasks you expect. Choose the best filters with a stable and reliable motor to ensure longevity. Cascade canister filters are a great example of this that can perform all tasks.
A reliable filter can also do its job efficiently and in the shortest amount of time. A lot of the time, the GPH, or gallons per hour, will also contribute to the motor's durability.
Does Brand Matter?
In many situations, the brand won't matter as long as the quality is good. But there is a reason why big brands become big brands, and that's because they consistently create reliable products. So while we don't want to emphasize the brand, we believe that going for filters from reputable brands may have a lower risk.
Sometimes, smaller, more obscure brands have similar or even the same products listed as the larger brands. You could pay for the same product and more for the brand name.
Read the labels carefully to ensure it isn't a knockoff design made from poorer-quality materials. All the ones on our top list are well-made and safe for your turtle friends.
Price
Are expensive options the best filters? Yes and no. The price of the turtle tank filter hinges on the stage filtration it possesses, whether you have an aquarium filter or terrarium filter, the size of your tank, and features such as a power jet filter.
There is no one size fits all or best choice, but there are best options for your particular setup. Consider all aspects of our buyer's guide to find the best option. The best fit for you may not be for someone else, but we always suggest prioritizing quality over price.
Frequently Asked Questions
1. Can you use a fish tank filter for a turtle tank?
Yes, you can use a fish tank filter for your turtle tank. It's not the type of filter that matters but the performance and the filtering capabilities. Consider factors such as flow rate, filtration stages, filtration media, type of filter, and placement. 
Since turtles produce much more waste than fish, you will need a fish tank filter meant for a larger tank than your turtle tank to be sure there's enough power.
2. What is the best turtle tank filter?
The best turtle tank filter is the Penn-Plax Cascade Canister Filter. It is a submersible option, which saves space and has a quiet operation. There are three filtration stages to clean up the tank on a mechanical, biological, and chemical level. 
It's easy to install, and the cartridges are easy to replace. One extra feature it has is a spray bar option. This feature of the canister filter will provide adequate aeration, similar to a waterfall filter.
3. What is the best filter for red-eared sliders?
If you have a red-eared slider, the best type of filter is the one from Zoo Med. The fully-submersible filter is quiet and powerful. It's another cartridge filter that's easy to switch out and features dual intakes to prevent clogging. 
Just one intake on an aquarium filter makes it much easier to trap grime, debris, and waste, increasing the need for maintenance.
4. How often do you clean a turtle tank with a filter?
We recommend cleaning your turtle tank with a filter at least once a week. Weekly cleaning may not mean a deep clean, but just clearing the filter or tank of visible debris can lengthen the time between major cleanups. 
You can also use this opportunity to replace some of the water. Using water measuring kits to ensure the tank environment is optimal is a great way to monitor your turtles' health.
5. Do I need a filter for my turtle tank?
Yes, you need a filter for your turtle tank. It's one of the most important aspects to consider when getting a turtle. Because turtles create a lot of waste, they are also more prone to bacterial infections and diseases if their habitat isn't kept clean. 
Not only is a turtle filter essential for your tank setup, but it's also indispensable for your turtle's health.
6. How can I quiet down my turtle tank filter?
Make sure your tank is clean. If you are easily bothered by the noise of a filter, look for the ones listed to have quiet operation. A lot of the time, a submersible filter is also quieter than an external one. Never turn off your filter at night because it's crucial to the tank's circulation and the environment's maintenance.
Conclusion
As a turtle owner, there are key steps to ensure your reptilian creatures' health. The food you feed your pet is crucial in their development. Maintain their everyday health with a clean environment.
There is no way you can clean the water by just removing the waste, your turtles need purification on a chemical and biological level, and this is when the right turtle tank filter comes in.
Remember, there are so many things to look for when buying a filter, so to make sure you make the right choice, our buyer's guide lists out all the essential qualities to want to help you during your filter-finding journey.
Expert Tip
Place your turtles near a window during the daytime. Giving your turtles a sense of day and night will be helpful for their internal clocks. Also, sunlight shining into their tanks will save you the need to buy a UV lamp or heating lamp. Having real sunlight on their basking platform is ideal.
Did You Know?
If your turtle filter starts getting loud, don't just assume it's broken and switch it out. A noisy turtle tank filter could result from dirt, grime, and waste buildup. It could signify that it's time to clean the filter and the tank. Clean everything out to find out if the filter is damaged.