---
If you are passionate about aquariums, you may have tried a large number of devices such as a heater, a filter, and of course, a CO2 kit.
Many people prefer to build them by themselves, since it does not take too much effort and you can save a significant amount of money.
If you want to save yourself the trouble of searching for pieces for your system, you can also buy a kit that offers everything you need.
One of the top, and most popular, kit available is the Fluval Mini Pressurized 20g-CO2 Kit; or Fluval Mini CO2 Kit for short.
I will be sharing below some need-to-know facts about Fluval Mini CO2 Kit before purchasing.
How small is the Fluval Mini CO2 Kit?
The CO2 kit is quite small, which is why you have to decide from the beginning which tank you will be using it for.
It does not have much power, thus most people prefer to use it in small and heavily planted tanks.
This will allow your fish plenty of CO2 and they will live an active and healthy life.
If your tank is larger than 15-gallons, you might need two kits or just a larger one.
The larger one is the Fluval Pressurized 88g CO2 Kit which is suitable for
29 gallon aquarium
and above.
If you don't use the right kind of equipment, you can't expect your plants to grow properly and your fish will not be very happy.
One of the greatest advantages of the Fluval Mini Kit is it comes with a regulator valve for you to decide exactly the output of the CO2 very simply.
If you want to use this device in a very small tank or in a tank with only one or two fish, you can reduce the amount of CO2 (depending on the needs of the fish).
How much does the Fluval Mini CO2 Kit cost?
Compared to many other similar products, Fluval Mini CO2 Kit is quite cheap and under $50.
It is made from quality materials so even if you think that it is pricey you are actually making an investment and is worth the price.
You don't want a device that needs to be changed or fixed after a few weeks, so it's really worth the money if you prefer quality to quantity.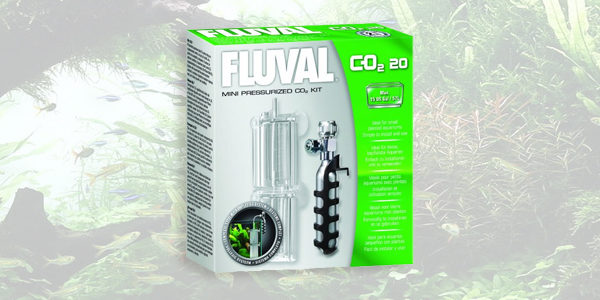 Is Fluval Mini CO2 Kit easy to use?
The CO2 cartridge is disposable and easily replaceable so you don't have to build or buy the entire device every time the cartridge is finished.
As for the assembly, this should not take more than a few minutes with all the instructions included in the box and no tools required.
Actually, the kit is made for people who want to save time, but provide the best conditions for their fish at the same time.
The design is also simple and basic, so it will not change the appearance of your tank in any way.
Since it's so small you can easily attach it to any wall of your tank or hide it behind a tall plant.
If you are worried it will make too much noise, don't be; it is actually quite silent.
Most people only keep the device on for a few hours per day, especially if there are many plants in their tank.
In the end, this depends entirely on you and on what kind of aquarium you want to have.
Final Verdict
The price is small, the quality is high, and the device is incredibly easy to use; you have no reason not to try it.
All users were satisfied with the product and some even used it for larger aquariums.